Autzen Express Proposed Service Changes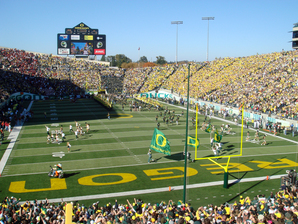 We want your input!
Changes are being proposed to LTD's Autzen Express service. Please view the proposed changes below
LTD will begin service 3 hours prior to kick-off instead of 4 hours before.

Autzen Express fares will cost $5 for everyone using this premium park & ride service.

Also due to Symantec's recent operational changes, the Symantec Park & Ride will no longer be used. Instead, we LTD will use nearby PeaceHealth's RiverBend Annex at 123 International Way, just east of the Symantec building.

The public comment period is open from July 2 – August 15. There will be Public Hearings on July 18 and on August 15 with adoption of the Autzen Express service changes at the LTD Board meeting on August 15.

Input on the proposed changes can be made by:

Email: LTD@LTD.org
Phone: 541-687-5555
In Person: July 18 or August 15 Public Hearings held 3500 E. 17th Ave., or any time during the comment period at LTD's Administrative Offices (3500 E 17th Ave.) or Customer Service Center at Eugene Station (11th & Willamette)
Written: P.O. Box 7070, Springfield, OR 97475