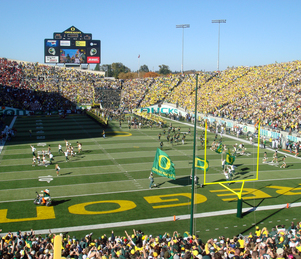 Free Bus Service to Remind Duck Fans That 'Responsibility Always Wins'
November 4, 2016
Media Contact: Meg Kester
Email: meg.kester@LTD.org
Phone: 541-682-6143
Thousands of people will travel free of charge this November 12, 2016 thanks to a partnership between Coors Light and Lane Transit District as part of the 'Responsibility Always Wins" national campaign.
"We're proud to team up with LTD for the third year to offer a safe transportation alternative for fans traveling to Autzen Stadium to cheer on the Ducks," said Gene Giron, MillerCoors Responsibility Initiatives Manager. "No matter the outcome on the field, responsibility always wins. That's why we are providing free rides in Eugene and nine other college communities around the country this season."
The "Responsibility Always Wins" one day event, coincides with the University of Oregon Duck game against division rival, the Stanford Cardinal. Duck fans who use LTD's Autzen Express will ride free from any of the eight Park and Ride lots, located throughout the Eugene/Springfield area. For shoppers taking advantage of pre-holiday sales, trips to Downtown Eugene, Valley River Center, the Shoppes at Gateway and anywhere else served by LTD, are free. Transit officials anticipate very full buses all day.
"LTD is proud to continue offering the Autzen Express to help fans win responsibly and get home safely," said A.J. Jackson, LTD General Manager. "We appreciate Coors Light's partnership in our efforts to offer safe mobility options for Lane County residents."
The Autzen Express, which provides between 8,000 and 9,000 rides each home football game, serves LTD's eight Park and Ride locations four hours before kick-off. Buses run every 10 to 20 minutes. The Autzen Express provides return service at half-time and for 60 minutes following the end of the game.
The free bus fares will begin with the first commutes of the day, shortly after 6 a.m. and run until the last route is served, after midnight.
For more information on the Autzen Express: www.LTD.org/AutzenExpress.
For more information on the "Responsibility Always Wins" campaign, text: 90464, then "FREE RIDES".