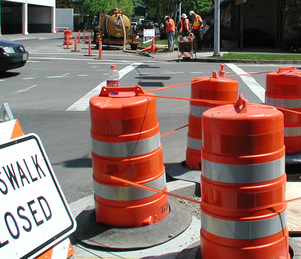 Paving Today on West 11th Avenue Will Restrict Lanes Between Bailey Hill Road and Beltline
October 12, 2016
Media Contact: Edward McGlone
Email: Edward.McGlone@LTD.org
Phone: 541-682-6101
With a pending atmospheric river targeting the Eugene Springfield area, City of Eugene officials this morning gave rare approval to Lane Transit District work crews to conduct daytime construction work on the West Eugene EmX Project. Asphalt paving will restrict lanes on West 11th Avenue between Bailey Hill Road and Beltline Highway beginning at 3 p.m. today continuing through midnight as West Eugene EmX crews pave before the coming storm.

Travel on West 11th will be restricted to a single lane in each direction and left turns will not be allowed. In addition, Commerce Street and Bertelsen Road will be closed at 11th Avenue beginning at 3 p.m. Bailey Hill Road will be closed at 11th Avenue later in the evening.
Motorists on West 11th Avenue should expect delays. Detours around the work zone include Beltline from/to 11th Avenue, as well as West 18th Avenue and Willow Creek Road (aka S. Danebo Avenue).
Access to all businesses will remain open. However, customers should approach businesses located on the north side of 11th Avenue using the westbound lane, and approach south-side businesses from the eastbound lane.
Construction crews are anticipated to complete the most intrusive work before the morning commute Thursday, Oct. 13, 2016.
Sign up for West Eugene EmX traffic and construction updates at LTD.org (bottom right of home page).