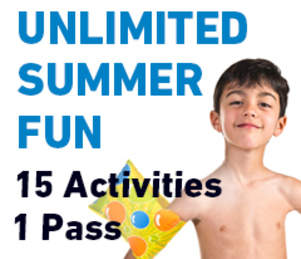 Popular Summer Youth Pass Available Today
May 6, 2019

Lane Transit District, Willamalane, and the City of Eugene have partnered again this year to support healthy activity and independence this summer for youth with the region's popular 1Pass.

This summer youth pass enables anyone 18 or younger entry into youth-oriented activities all summer long, as well as unlimited transit travel to get to and from these destinations, summer jobs, parks, malls, or visiting friends. The cost is $55 for the entire summer (May 27 – September 2, 2019).

The passes are available to purchase at LTD, Willamalane Facilities & Eugene Rec Pools
The passes include admission to: Adventure! Children's Museum, Amazon Pool, Bob Keefer Center, Camp Putt Adventure Golf Park, Echo Hollow Pool, Emerald Lanes, Eugene Science Center, Get Air Eugene, Jordan Schnitzer Museum of Art, Lane Transit District, Laurelwood Golf, River Road Pool, Sheldon Pool, Splash! at Lively Park, and Willamalane Park Swim Center.

For more information about the 1Pass, go here: www.willamalane.org/1pass

Pass is nontransferable. Other rules and restrictions may apply.

The Willamalane Park Foundation and the City of Eugene will give out a limited number of passes based on financial need. To be eligible for financial assistance recipients must be 18 and younger, reside within each district's boundaries and submit an application by May 20. Visit Willamalane.org or eugene-or.gov/2891/1Pass to learn more about the 1Pass perks and to apply for the scholarships.