LTD Reaches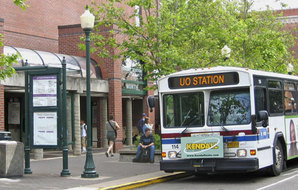 Areas: All of Eugene/Springfield and outlying areas from Coburg to Cottage Grove and from Veneta to McKenzie Bridge.
Major Employers: All the large employers in the area, including Sacred Heart Hospital, the University of Oregon, Lane Community College, the Cities of Eugene and Springfield, and the Royal Caribbean Call Center.
Shopping/Dining Centers: All major centers, including Valley River Center, the Gateway Mall, and Fifth Street Public Market.
Colleges/Universities: The University of Oregon and Lane Community College have frequent service and group pass programs for students and staff.
Seniors: Most senior residences and every major medical facility.
To begin advertising on LTD, contact Lamar Advertising:

Bryan Anderson
Transit Market Manager
banderson@lamar.com
Phone: (541) 686-8400
lamar.com/eugene