Santa Clara Station


Lane Transit District is nearing completion of the construction of the Santa Clara Transit Station, located at the site of the former Santa Clara Elementary School on River Road between Green Lane and Hunsaker lane in North Eugene. Rowell Brokaw Architects let the design efforts for the station with Delta Construction completing construction efforts. The vast majority of construction will be complete by the end of 2020. The station is planned to open for revenue service beginning February 7, 2021.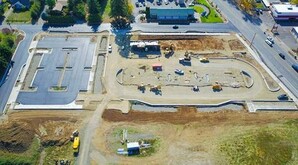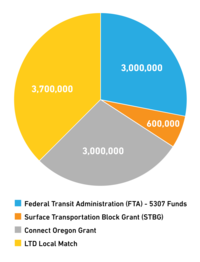 LTD purchased the 8-acre, bank-owned property in 2015 with the intention of relocating its current transit station from River Road just south of Beltline. Safety issues, congestion and operational inefficiency have made the current station more difficult to access.

The total budget for the project is $10,300,000 with funding from a mixture of sources including grants and a local match.
If you have any questions about this project, the presentation or would like to connect with LTD regarding the Santa Clara Station, please send an email to SCTransit@LTD.org or call 541-682-3240.

The Santa Clara Transit Station is one of several neighborhood transportation initiatives under review by the City of Eugene, Lane County, Oregon Department of Transportation, and Lane Transit District. To learn more about the work these agencies are actively coordinating with the neighborhood, and each other, please click here for more information.
Santa Clara Route Schedules
Route 51 - Santa Clara
Route 52 - Irving

Project Documents