Your Ride To Summer Fun
LTD will provide free service to those participating in the July 4th Butte-to-Butte and the July 7th , 8th, & 9th Oregon Country Fair, courtesy of the Oregon Track Club and the Oregon Country Fair respectively. Free fare only applies to people attending these specific events. Anyone riding the bus on these dates who is not attending these specific events should plan to use their regular bus pass or pay the usual fare.
For the Butte-to-Butte, the free service is only for event participants traveling from the downtown pick-up locations to the beginning of the race (at Donald and 40th), 6:30 – 8:00 a.m. on July 4.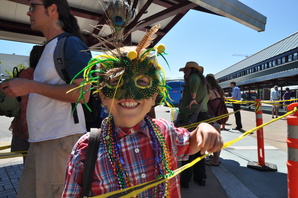 For the Oregon Country Fair, event goers simply need to show their OCF ticket to ride LTD free on July 7, 8, & 9.