ROUTE 990x-999x

Autzen Express

Save this route as a favorite
Autzen Express – Garth Brooks Concert, June 29
UDPATED 6/14, 2:49 PM
: Limited Autzen Express bus service is being provided for the Garth Brooks Concert on Saturday, June 29. Service begins at 3:00 PM at four pick-up and drop-off locations: Valley River Center, Riverbend Annex, Lane County Fairgrounds, and Springfield Station. RV parking and tailgating will not be allowed at any of the four pick-up locations. Concertgoers can purchase round-trip fare for $5 or use valid LTD passes. For more details about the service including how to purchase bus fare, visit:
www.matthewknightarena.com/parking-garthbrooks.php#Ride.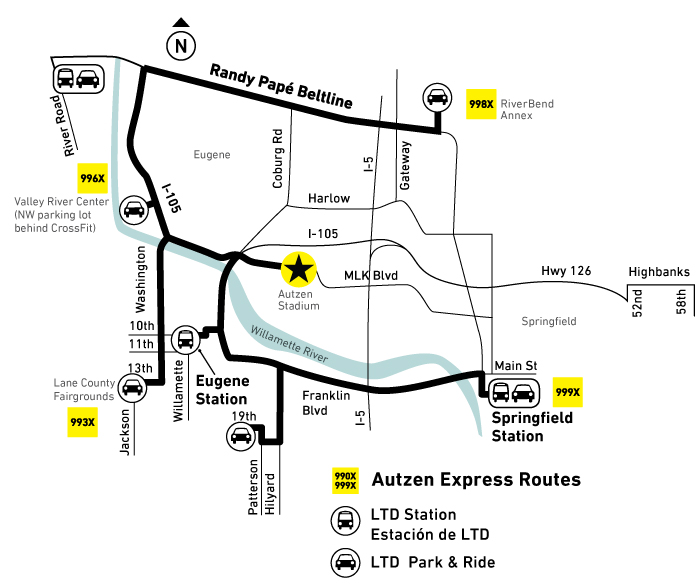 Game Day Service
Changes at a Glance for 2018 Service
Change in bus fare
New RiverBend Annex Park & Ride location
Removal of Symantec Park & Ride location
Changes in pre-game hours

For more details read the summary to the left.
The Autzen Express service is provided for events held at Autzen Stadium. Service begins three hours before the event and buses run every 10 - 20 minutes from eight Park & Rides locations. Return trips are only available during halftime and immediately following the event for 60 minutes.

Fans can either purchase cash fare the day of the game or use their existing valid LTD bus passes. On the day of the game, round trip fare is $5 for ages 6 - 64, free for children 5 and younger, and passengers 65 and older can ride free with photo I.D. as proof. Cash or LTD passes are the only valid fares accepted at the time of boarding. No passes will be distributed at the Park & Ride locations.
Riders who have LTD passes valid at the time of each game can use their passes to ride to and from the game. These include: All monthly passes, Day Passes, 10-Ride Tickets (2 required), EmX Passes, Group Passes, and Honored Rider Passes.

Park & Ride Locations
Route 993x: Lane County Fairgrounds – 796 W. 13th

Route 996x: Valley River Center – 293 Valley River Center (Northwest parking lot behind Eugene Crossfit)

Route 998x: RiverBend Annex – 123 International Way (Southeast parking lot)

Route 999x: LTD Springfield Station – S. A/Pioneer Parkway