ROUTE 990x-999x

Autzen Express

Save this route as a favorite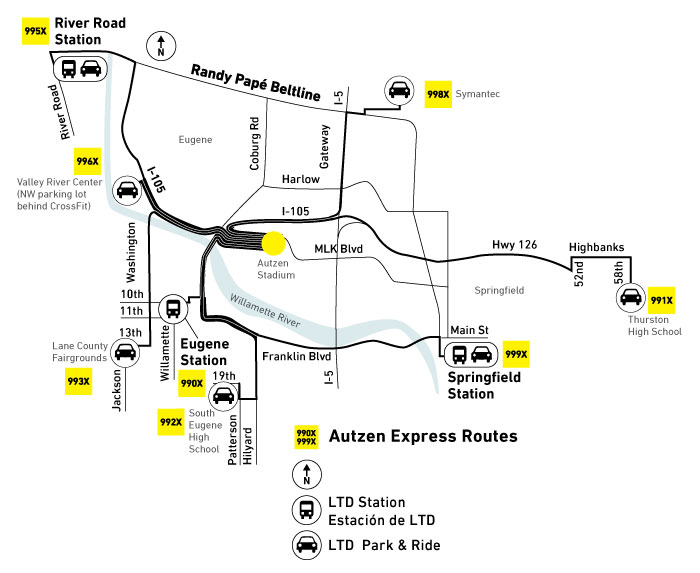 The Autzen Express service is provided for events held at Autzen Stadium. Service begins four hours before the event and buses run every 10 – 20 minutes from eight Park & Rides locations. Return trips are only available during halftime and immediately following the event for 60 minutes. On a typical game day, 80 buses will transport 10,000 people to Autzen Stadium.
Fans can use any LTD bus pass available for purchase in our online store or pay cash on board. Round trip cash fare is $3.50 for adults, $1.75 for youth ages 6 – 18 and free for children 5 and younger or seniors 65 and older. If you're taking the Amtrak Cascades Game Train into town, your print or mobile ticket serves as fare for the Autzen Express and any other route from Friday – Sunday of the game weekend.
Park & Ride Locations
Route 990x: LTD Eugene Station – 10th/Willamette

Route 991x: Thurston High School – 333 58th

Route 992x: South Eugene High School – 400 E. 19th

Route 993x: Lane County Fairgrounds – 796 W. 13th

Route 995x: LTD River Road Station – River Road/River Avenue

Route 996x: Valley River Center – 293 Valley River Center (Northwest parking lot behind Eugene Crossfit)

Route 998x: Symantec – 555 International Way

Route 999x: LTD Springfield Station – S. A/Pioneer Parkway

PRINTABLE SCHEDULE