ROUTE 990x-999x

Autzen Express

Save this route as a favorite
2022 Autzen Express Update
During the Duck football season, the University of Oregon has contracted with private-bus carrier First Student to provide football fans with game day bus service to the stadium from various locations throughout the area. Questions about Duck football bus services can be directed to the UO Athletic Department.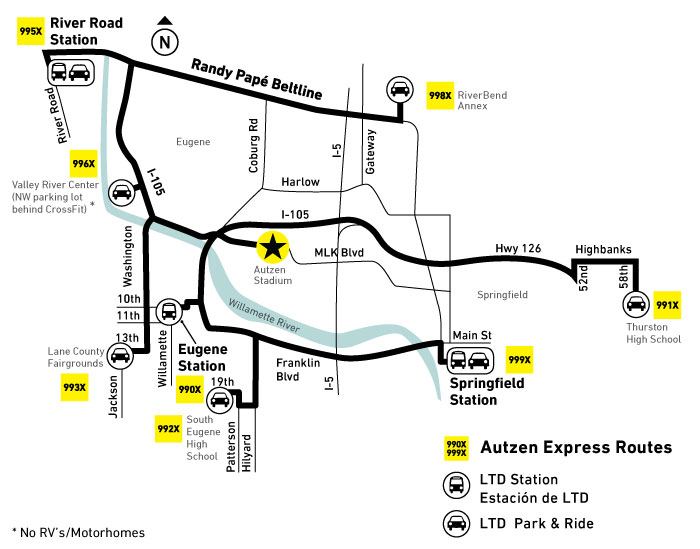 Game Day Service (Not Available for 2022 UO Football Season)
The Autzen Express service is provided for events held at Autzen Stadium. Service begins three hours before the event and buses run every 10 - 20 minutes from eight Park & Rides locations. Return trips are only available during halftime and immediately following the event for 60 minutes.
Fare for this special service is $5 per rider, round trip, age 6 and up. Fans can pay either the $5 cash fare before boarding the shuttle on game day, use their existing valid LTD bus pass (day, month, Group Pass, or Honored Rider), or purchase a day pass on the TouchPass mobile app for only $3.50. Sign up for TouchPass by downloading the TouchPass Mobile App from the app store (click here for details), create an account, and purchase a day pass. Note: Riders cannot pay for multiple passengers through the app. Each rider must have their own account.
Return trips from Autzen Stadium to the Park & Ride locations are only available during halftime of the game and immediately following the game for 60 minutes.
Park & Ride Locations
Route 990x: Eugene Station
Route 991x: Thurston High School
Route 992x: South Eugene High School
Route 993x: Lane County Fairgrounds
Route 995x: River Road Station
Route 996x: Valley River Center * – 293 Valley River Center (Northwest parking lot behind Eugene Crossfit)
Route 998x: RiverBend Annex – 123 International Way (Southeast parking lot)
Route 999x: LTD Springfield Station
* No RV's/Motorhomes
Home Games 2022
| | |
| --- | --- |
| Home Game | Game Time |
| vs Eastern Washington | Saturday, September 10, 5:30 PM |
| vs BYU | Saturday, September 17, 12:30 PM |
| vs Stanford | Saturday, October 1, TBD |
| vs UCLA | Friday, October 22, TBD |
| vs Washington | Saturday, November 12, TBD |
| vs Utah | Saturday, November 19, TBD |