Project Purpose
Transit Tomorrow will take a deep look at LTD's current bus system and ask two important questions:

This project will combine technical analysis and broad-based community input to answer these questions and to develop a public transit network for the future.
Making Choices

The region's transit system must reflect the priorities of the communities it serves. One of the biggest dilemmas in planning transit service is matching transportation priorities with limited resources. As a responsible public steward, LTD must make choices about what services to offer and balance the demands of our diverse community with the conscientious use of public funding. We need your input to help determine priorities and deliver the best service.
Check out the Transit Tomorrow Factsheet to learn more about the project timeline and process.
We are Listening!
Phase 1: Outreach Summary
Thank you for your participation and willingness to provide crucial input for the first phase of the Transit Tomorrow study. The Public Outreach Summary from this first phase of outreach (Phase 1) is now available. This document outlines the specific feedback and community insights provided from the various engagement activities conducted between June and August of 2018.

What's Next?: LTD is currently using what we heard from the public last summer to create four distinct transit system alternatives. We are looking forward to sharing those publicly in January and February to get community feedback, and to move closer to establishing a preferred transit network system design. We will be back in touch with a list of dates and invitations for engagement - including community presentations and opportunities for online engagement.

Click on the icons below to send an email requesting a presentation or to review project-related documents.

Why carry out this study now?
To take a look at the whole network. LTD has made many service adjustments in the last few years. These changes add up, but there has not been an opportunity to take a comprehensive look at the full network and demand-responsive services in more than two decades.

To examine the benefits and consequences of more frequent service. LTD's plans include a Frequent Transit Network that goes far beyond EmX. Transit Tomorrow provides an opportunity to examine how the frequency of service in specific areas can impact service delivery and timing of services across LTD's entire transit network.

To adapt to a changing world. New developments in transportation and mobility technology are requiring transit agencies to re-examine their role and services.

To set the stage for future investments. To make good plans for future facilities, LTD needs to know what its future service might look like. Completing this project now will allow LTD to prepare for and respond to the changing needs of our community, creating transit options that work for today and for tomorrow.

Process Overview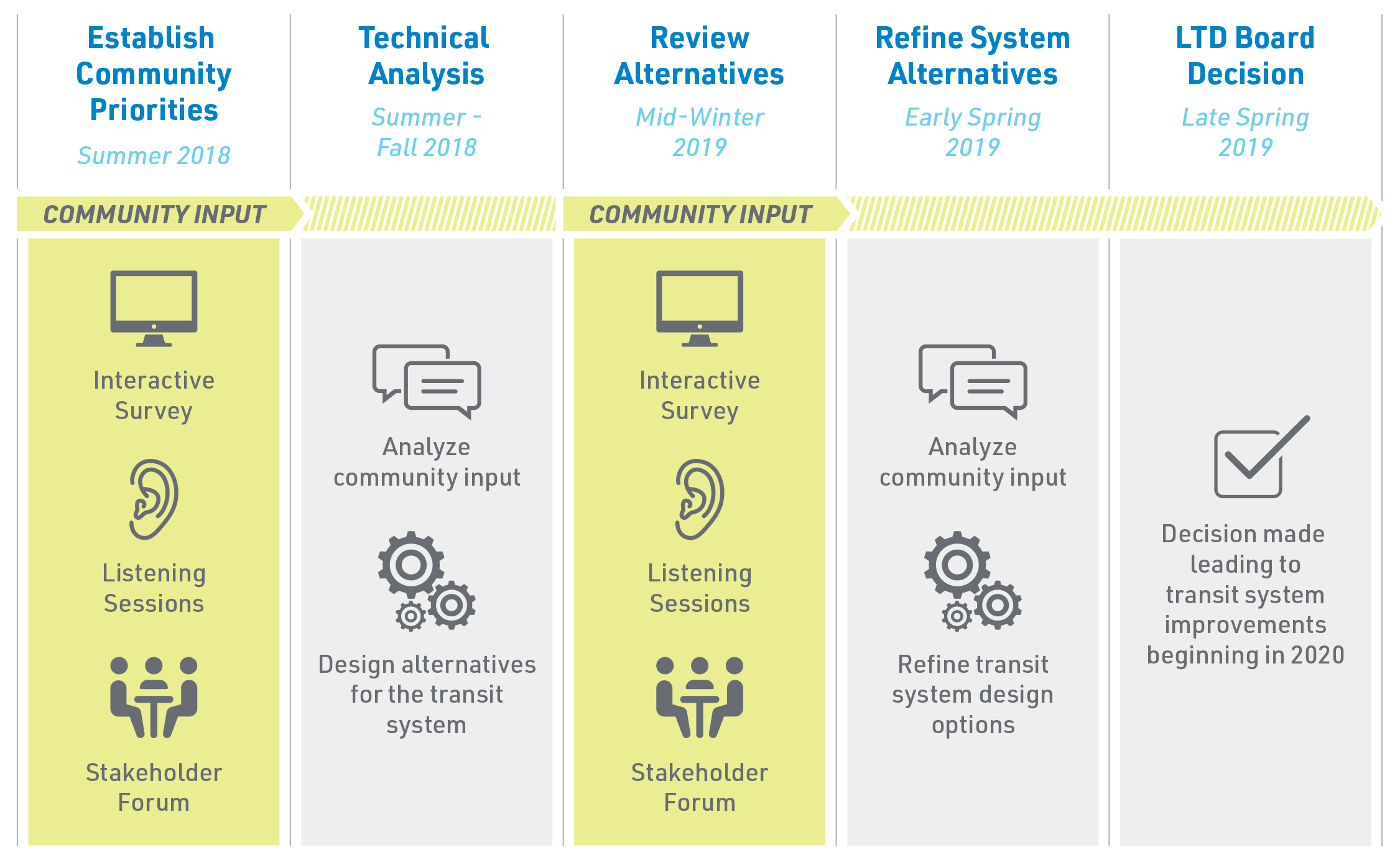 Questions? Drop us a note.