Route Changes in West Eugene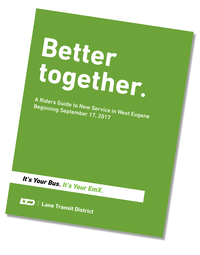 Beginning September 17, transit riders will have more direct crosstown connections and more transfer options to reduce travel time and get them where they want to go. Bus service operates from 6:00 a.m. – 11:00 p.m. on weekdays and a little less on weekends.
All LTD bus routes connect with EmX Bus Rapid Transit service allowing riders lots of travel options into and out of the Eugene-Springfield metro area. Specific to west Eugene, Routes 36, 41, 55, 78, and 93 connect to the EmX West line. Routes 32, 43 and 76 are discontinued as of September 17. Beginning on this date, service to many of these areas are served by EmX and Routes 36, 41 and 93 instead.
Transfers
New to our riders on September 17 is the concept of "Transfers." LTD has long operated by a "hub and spoke" system with the downtown Eugene Station as the central location where most buses start and end. This year, LTD has developed crosstown connections and transfer points to provide customers more options, better connectivity and decreased travel times.
Look here for transit service changes beginning September 17:
For more information call an LTD Customer Service representative at 541-687-5555, send an e-mail to LTD@LTD.org, or visit with LTD staff at any of the following:
| | | |
| --- | --- | --- |
| August 02, 2017 | 4:00 p.m. | WestTown on 8th/Willamette High School |
| August 04, 2017 | 5:30 p.m. | IntroDUCKtion at UO, at the EMU |
| August 08, 2017 | 5:30 p.m. | Party in the park - Bethel Community Park |
| August 08, 2017 | 3:30 p.m. | Prairie View Cornerstone Open House |
| August 09, 2017 | 10:45 a.m. | Redwood Park - Cornerstone Open House |
| August 16, 2017 | 6:00 p.m. | WestTown on 8th - Cornerstone Open House |
| August 16, 2017 | 7:30 a.m. | Eugene Station – Customer Service Center |
| August 16, 2017 | 4:00 p.m. | WestTown on 8th - Cornerstone Open House |
| August 18, 2017 | 4:30 p.m. | Eugene Station, Customer Service Center |
| August 21, 2017 | 7:00 a.m. | Eugene Station, Customer Service Center |
| August 22, 2017 | 6:00 p.m. | Eugene Station, Customer Service Center |
| August 22, 2017 | 3:30 p.m. | Prairie View Cornerstone Open House |
| August 23, 2017 | 7:30 a.m. | Eugene Station, Customer Service Center |
| August 24, 2017 | 4:30 p.m. | River Road Station |
| August 25, 2017 | noon | Seneca Park & Ride |
| August 31, 2017 | 8:00 a.m. | Commerce Station at Target |
| September 1, 2017 | 5:00 p.m. | Commerce Station at Walmart |
| September 8, 2017 | 1:00 p.m. | Eugene Public Library |