EmX West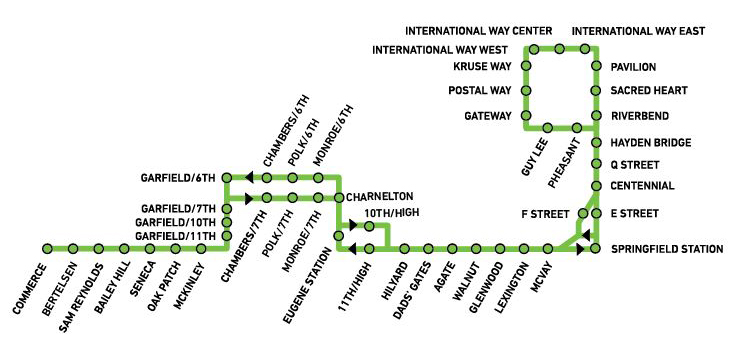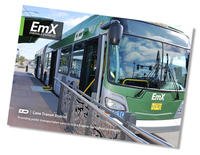 Extending EmX in west Eugene is part of community effort to enhance transportation and safe multi-modal travel along West 6th, West 7th and West 11th corridors. The new 5-mile stretch benefits transit users, bicyclists, pedestrians and motorists. Service runs seven days a week, mostly every 10 minutes on weekdays and 15 to 30 minutes on weekends.
Using EmX is easy. Purchase your ticket at any EmX station. Watch for the green bus. Board the bus and take a seat. Let the driver know where you want off by pulling the cord or pushing the red button.

EmX Schedule and Map
Click here for an EmX Schedule and real-time route map.

Features of the New EmX Corridor
Improved intersections with two new signalized pedestrian crossings
Improved street lighting for safety
5 miles of rebuilt and new sidewalks
Curb cut-outs at cross walks to safely accommodate mobility devices
3 bicycle-pedestrian bridges for improved access between West 11th, the Fern Ridge Path and surrounding neighborhoods
200 more trees planted
Many rain gardens and water filtration systems for cleaner storm water run off
26 covered bus shelters with seating and customer information
Public art by regional artists integrated throughout the line
New on EmX
Beginning Sept. 17, you must pull the cord or push the red button to request your stop.