Animals on the Bus
Pets
Small pets traveling on LTD must be kept in an approved pet carrier that fully contains your pet. Your pet must remain inside the carrier, and the carrier must be kept closed while on LTD property and traveling on LTD buses. The carrier must be small enough to carry on your lap or stored under your seat while riding. If you have questions about your pet carrier contact LTD's Customer Service Center at 541-687-5555 (7-1-1 TTY).
Service Animals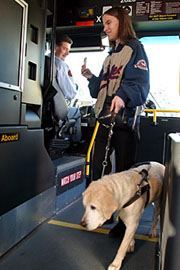 Service animals that have been trained, or are in training to perform a specific task to assist with a disability are welcome aboard. Under the Americans with Disabilities Act, LTD can ask if your animal is a service animal, and what task your animal has been trained to perform for you. Your animal must:
Be individually trained to do work or perform a task related specifically to your disability;
As required by law, be licensed/registered with the city and/or county in which the animal resides as proof of vaccination and ownership. Licensing tags must be available with your animal;
Be on a leash, under voice command if your disability prevents the use of a leash, or be in a container (birds, reptiles, amphibians, and rodents must be kept within an enclosed carrier or container);
Be under your control so as not to present a threat to the safety of other passengers, services animals, or LTD employees;
Lay at your feet or in your lap, but not in the aisle or on the seat;
Not act aggressively toward or interact with other people or other animals;
Not interfere with the work of other service animals, thereby presenting a threat to the safety of that service animal's handler; and
Be reasonably clean and groomed.
Service Animal Paw Print Program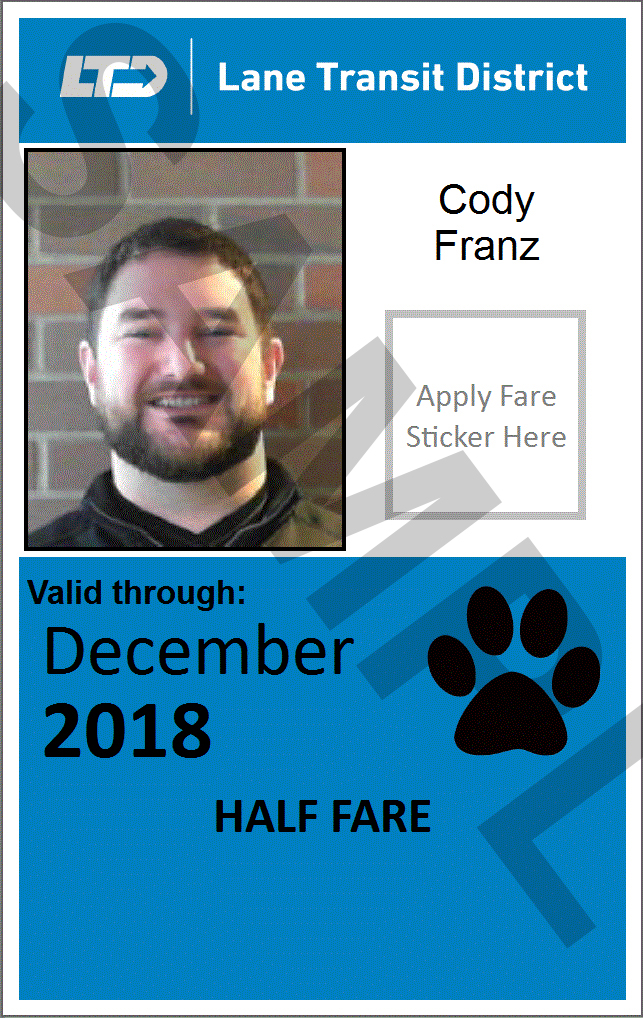 Lane Transit District also has a voluntary program aimed at easing the boarding process for riders with service animals.
The service animal paw print program allows riders to receive a paw print symbol on their rider card. While it is not any form of service animal certification, it shows drivers that the rider has already been asked what task their service animal has been trained to perform, and doesn't need to be asked again. When getting on the bus, all the rider has to do is show their card for an even faster boarding experience. Anyone with a service animal can come to the downtown Eugene station to learn more about the program or participate.
Ordinarily, passengers should expect to be asked about the status of their animal and what task it is trained to perform. This can be an inconvenience for frequent riders. The voluntary paw print program benefits both transit riders and bus drivers by minimizing any unnecessary barriers to boarding, while still allowing anyone who chooses to bring their service animal without a rider card.
The service animal paw print program began as a pilot project made possible with the support from the Oregon Department of Transportation (ODOT). LTD and ODOT hope this program may become a model for other transit agencies across the nation, and have summarized our experiences in the report below.
Useful Documents