Annual Budget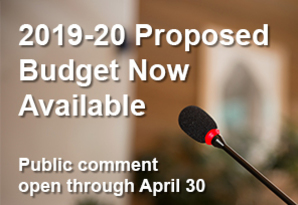 The public review and comment period for Lane Transit District's fiscal year 2019-2020 proposed budget is now open. To view the proposed budget please click the link below. The proposed budget is also available to view in person at LTD's administrative office located at 3500 East 17th Avenue, Eugene, OR 97403. Members of the public are invited to provide comments regarding the fiscal year 19-20 proposed budget between April 1, 2019 - April 30, 2019
Comments may be submitted by:
Adoption of the fiscal year 2019-2020 proposed budget will occur at the May 15, 2019, regular Board meeting.
For your convenience, LTD offers the Annual Budget on our website for the past five years. For information outside this date range, please submit a public records request.

Previous Budgets