Bus Buddy Program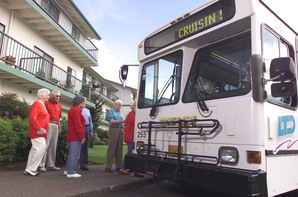 The Lane Transit District Bus Buddy Program is a safe and personal introduction to the LTD transit system through the assistance of trained and qualified volunteers.

Participating in the program will help you gain the tools and confidence to travel safely in and around town.
Your own Bus Buddy will be with you every step of the way. He or she will be available to help you learn how to use the bus system.
Planning Your Trip
Your Bus Buddy will walk you through the steps to plan a trip on LTD, including how to read the bus schedules and how to use the Rider's Digest and System Map.
Getting on Board
Learn about boarding procedures, paying your fare, and the special accessible features of the bus.
Exiting the Bus
Learn how to let the driver know your stop is coming up and how to safely exit the bus.
Next Stop
Plan your trip home or to another destination. The best part of the program is that you don't have to know anything about using the bus! Your Bus Buddy will provide the training you need.
To request a Bus Buddy and receive one-on-one assistance, call Alternative Work Concepts at 541-345-3043.
For more information, call LTD Customer Service at 541-687-5555.