Bus Talk Newsletter
FEBRUARY 2020 - Issue 397


Presidents Day
Monday, February 17, 2020
LTD buses and paratransit will operate on regular schedules.
Customer Service Center: 7 a.m.-7 p.m.
Administrative Offices: CLOSED

TRANSIT TOMORROW

LTD Wants to Hear From You
Want to learn more about Transit Tomorrow? Join LTD at one of the scheduled open forum meetings or contact LTD to schedule an LTD representative to meet with your neighborhood, civic, or church group.



SPRINGFIELD - FEB. 11
Springfield City Hall Lobby
255 Fifth Street
Springfield, OR 97477
5:30 p.m. - 7:30 p.m.

EUGENE - FEB. 20

Home2Suites
102 W. 11th Avenue
Eugene, OR 97401
5:30 p.m. - 7:30 p.m.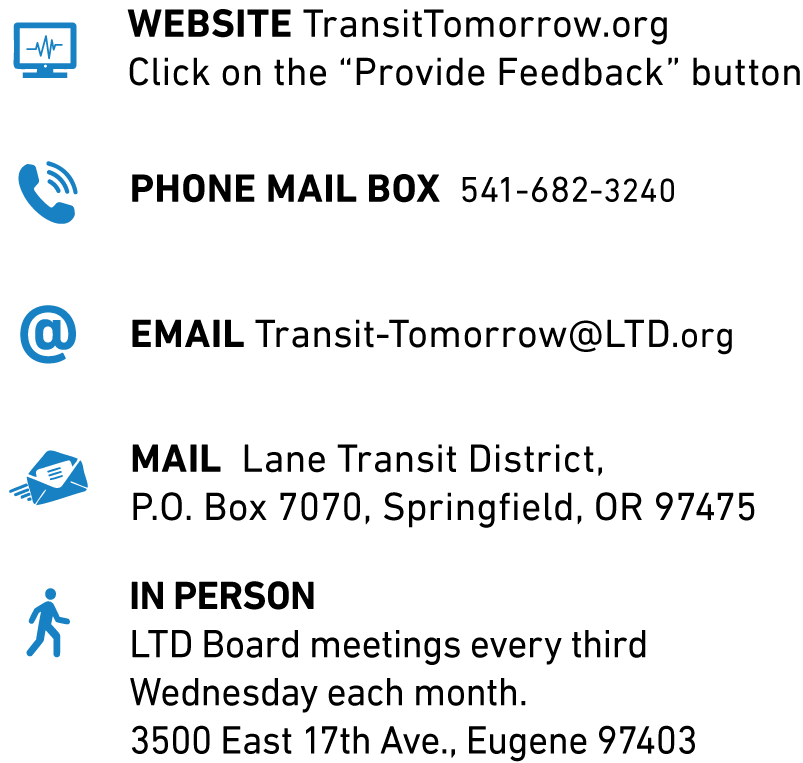 WINTER SERVICE CHANGES


Winter Service Changes Begin on February 2, 2020
Three times a year, LTD makes route and schedule adjustments to improve service and gain efficiencies. On February 2, 2020, LTD will enhance routes within the system to increase connectivity.

To see the exact changes to your route, go to LTD.org
ONE-SEAT-RIDE RETURNS TO EMX!

No Transfer Needed at Springfield Station
Beginning with the February 2 service change, riders will no longer have to transfer EmX buses in Springfield to travel to or from west Eugene and the Gateway area. During peak times on weekdays, the recombined EmX route will provide 10 minute service between Commerce and Springfield Stations. The EmX will return to its 20-minute service in the Gateway loop area as well.

ROUTE 98 RESUMES "LOOPS" IN COTTAGE GROVE

Beginning February 2, 2020, LTD will resume regular bus service within Cottage Grove on weekdays. The LTD bus will again travel from Walmart through the center of town and back to Walmart before departing for Creswell, LCC, and Eugene on all days of the week.

Additionally, LTD plans to extend the pilot program period of the new Mobility-on-Demand service, the LTD Connector, within the city of Cottage Grove: Monday through Friday, from 7:00 a.m. to 7:30 p.m through August 2020. Fares for the Connector are $1 per ride through the duration of the pilot program, and all other LTD fare is also accepted.
2019 LTD Employee of the Year
Congratulations to the 2019 LTD Employee of the Year! Sherry has been with the District for 30 years and has served as a valuable resource and role model to her riders and co-workers alike. She has been referred to as "the most courteous of bus drivers," taking the utmost care with her passengers. Sherry's infectious laughter and caring demeanor makes riding the bus that much more fun. This is an honor Sherry rightly deserves!





COMMUNITY EVENTS

KLCC Brewfest 2020
February 7 & 8
Lane Events Center
796 W 13th Avenue

A weekend full of brewing competitions, 80+ breweries with 200+ beers and ciders to sample, live music, a music sale, and new this year is "Music Inspired Beers." All proceeds support KLCC 89.7 FM. Take the bus for free, courtesy of LTD. For more information, visit KLCC.org
Take Route 36 or 41

Oregon Asian Celebration
February 15 & 16
Lane Events Center
796 W 13th Avenue
The 35th annual Oregon Asian Celebration in the Year of the Rat will include traditional entertainment performances and live music from fan dancing to taiko drumming with an Asian marketplace of more than 80 vendors and an Asian food court. For more information, visit
AsianCelebration.orgTake Route 36 or 41


Bus Talk Archives