Bikes on the Bus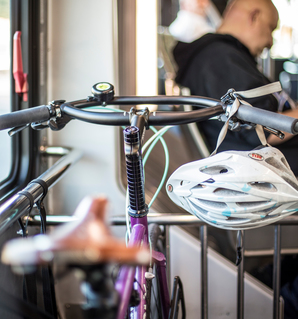 All LTD buses are equipped with bike racks. Most buses have a bike rack on the front of the bus. EmX buses have bike racks inside the bus.
For step-by-step instructions visit the following pages:
Bike Parking
Free bike parking is available at all LTD transit stations on a first-come, first-served basis. Be sure to use a quality lock as LTD is not responsible for lost or stolen bikes. For safety and security, do not attach your bike to an LTD bus stop, shelter, or any other LTD property that is not designated for bike parking. LTD will remove and confiscate any bikes that are not parked in designated areas.
Electronic Bike Lockers

Electronic bike lockers are available for rent at Eugene and Santa Clara Stations. These lockers operate using the BikeLink card system. Renters can park their bikes for a few hours, overnight, or for several days. You only pay for the time you use, and there is no monthly or annual fee. BikeLink locker rentals cost 5 cents per hour, and cards must be purchased for an initial starting value of at least $20. To use these lockers, purchase a BikeLink card online at www.BikeLink.org or the LTD Customer Service Center.

Traditional Bike Lockers

Traditional bike lockers are available for rent at Amazon and Cottage Grove stations. These locker rentals require a rental agreement and a refundable $25 deposit for a Kryptonite U-lock. Once reserved, you will be assigned a specific locker. For locker reservations, email Point2point@LTD.org or call (541) 682-6213.