Students Ride Free!

Free Transit Pass for Students Grade K-12

LTD is currently working with local school districts to finalize the Student Transit Pass program to work in conjunction with the TouchPass electronic fare system.

When the Student Transit Pass was originally launched, students were to have student identification cards by October 1 to present as fare. At this time, many students have not received their student identification cards. In the meantime, so that all students can continue to benefit from the program, students will continue to let the bus operator know which school they are enrolled in when boarding the bus until further notice. Final details about the TouchPass transition will follow in the coming months and will be available through the schools and at LTD.org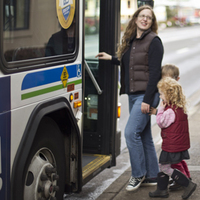 LTD's goal of the Student Transit Pass is to make it easier for families to get around town by reducing their transportation costs and the demands on parents to transport their children to school and activities. An additional goal is to create life-long transit users to decrease transportation impacts on our environment.
Additional information about the student transit pass tap card and mobile app will be available later this fall. Free student transit fares are made available through a grant to LTD from the State of Oregon's Statewide Transportation Improvement Fund (STIF) approved through House Bill 2017.
Information Flyer PDF (English)
Information Flyer PDF (Spanish)
Information Flyer PDF (Mandarin)
Information Flyer PDF (Cantonese)
Press Release PDF