Sustainability at LTD
LTD has a long standing commitment to our community. Part of this has been taking steps to do business in a sustainable manner. Transit is an intrinsically 'green' community benefit because of its ability to take cars off of the road and move more people more efficiently on buses and other earth-friendly modes, reducing CO2 emissions. In the past few years LTD has stepped-up its sustainability practices.
ISO 14001
LTD is currently one of just 13 transit agencies in the U.S. – and only transit district in Oregon – to achieve certification of a high international sustainability standard know as International Organization Standardization's (ISO) 14001. This certification occurred in 2015.
Environmental and Sustainability Management System (ESMS)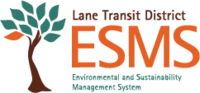 A driving factor in this sustainable approach to operations is the adoption of an Environmental and Sustainability Management System (ESMS). The process of developing an ESMS at LTD began in 2013 through a two-year program provided by Virginia Tech University.
Virginia Tech defines an Environmental and Sustainability Management System as "a set of management processes and procedures that allows an organization to analyze, control and reduce the environmental impact of its activities, products, and services and operate with greater efficiency and control." What this ESMS does is equip LTD staff to create a way to not just respond to environmental concerns, but have method to manage and prevent them in the future. Significant elements of LTD's ESMS program are fuel use and GHG reductions, water and electricity conservation, fuel spill protections, and aerosol can disposal. Read LTD's commitment to the environment here.
APTA Sustainability Commitment

In 2010 LTD voluntarily signed on to the American Public Transportation Association's Sustainability Commitment. This commitment helps transit agencies begin to bring sustainability to the forefront of everyday practices by managing employee awareness, utility consumption, and internal prioritization of sustainability initiatives. Since its enrollment, LTD has achieved a Silver Level medal of recognition for its efforts in utility reduction and employee training and engagement.