Sustainability at LTD

In all that we do, we are committed to creating a more connected, sustainable, and equitable community. Learn more about our mission, vision and values by visiting the Strategic Business Plan webpage.
LTD's Triple-Bottom-Line Approach to Sustainability
Caring for people, including the communities in which we operate, our stakeholders, and our employees.
Using natural resources efficiently and protecting our physical environment.
Being responsible stewards of financial resources.
Sustainability Initiatives
Our History
LTD is a signatory of the APTA Sustainability Commitment, certified at the Silver Level. LTD continues to set and meet new goals and is working towards certification at the Gold Level.
Since the mid-2000's LTD has invested in Diesel Electric-Hybrid buses. Prior to our investment in plug-in electric buses, Diesel Electric-Hybrid buses made up approximately 60% of our fleet.
In 2022, LTD joined the Federal Transit Administration Healthy Planet Challenge to demonstrate its commitment to reducing emissions and taking care of our community. As part of the challenge, LTD and many transit agencies across the country are sharing their climate action plans and strategies, along with measurable goals to increase ridership and reduce GHG emissions.
Resource Efficiency
LTD is committed to continuously measuring its energy, water, waste, and paper consumption and reducing use whenever possible.
In 2019, LTD conducted a carbon footprint analysis. Learn more about the process here, and view the results from our baseline analysis of FY2012-2018 here and our updated inventory covering 2019-2021 here.
In spring 2021, LTD initiated a Fleet Procurement Plan to evaluate all available fuels and technologies for future investment.
Policy Adoption
In June 2020, LTD's Board of Directors passed its Climate Action Policy and Fleet Procurement Goals. Learn more about the process here, and view the adopted policy here. This replaced LTD's 2007 Sustainability Policy, which is available here.
In September 2020, LTD's Board passed an updated Diversity, Equity, and Inclusion Policy. This policy is an important supplement to the Climate Action Policy, ensuring that diversity, equity and inclusion are prioritized in our decision making. Read the updated policy here.
Investment in Cleaner Energy and Vehicles
In 2019 LTD ran a pilot project testing electric buses in revenue service. A pdf of the pilot program data is available for download.
In June 2021, LTD put 11 388-kWh 40' electric buses into revenue service.
LTD is using R99 Renewable Diesel fuel. Learn more about this innovative fuel type here.
Moving Forward: Our Projects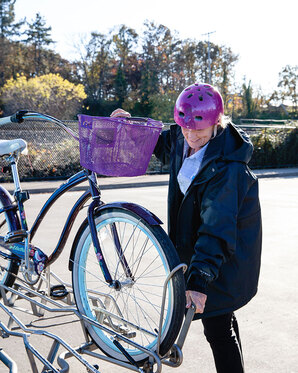 Fleet Procurement Plan: We're looking ahead at how LTD can be part of the solution to climate change, by researching sustainable fuels and technologies. To learn more about this project, click here.

Electronic Record Management: More than just "going paperless," transitioning to electronic records management allows us to consume less paper, while also being more transparent with public records. To access our growing library of electronic public records, click here.

Continued Commitment to APTA Sustainability Standards: In 2014, LTD voluntarily signed on to the APTA Sustainability Commitment and achieved a certification at the Silver level. By providing updates on the strides we've made, we re-commit to these standards and seek to be a leader in this area.

Green Dream Team: LTD employees are encouraged to practice sustainability, both individually and as a team. From volunteering in the community to collaborating on better ways to achieve our sustainability mission, the Green Dream Team plans for a more sustainable future. Learn more about the group here.
If you're interested in receiving updates regarding LTD's sustainability initiatives and projects, please contact the sustainability program manager: sustainability@ltd.org.