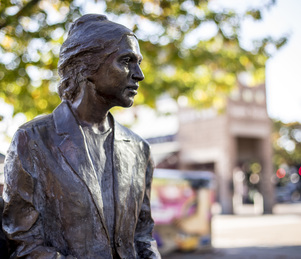 Black History Month – African Americans in Transportation
February 1, 2018
February is dedicated to honoring the achievements of African Americans. There have been many contributions by African-Americans throughout this country's history, including helping to shape transportation through inventions and actions.
Maya Angelou has stated that she was the first female African American Street Car Conductor in San Francisco at the age of 16.

Charles Banks invented the Hydraulic Jack which allows us to keep buses well maintained and safe.

Garrett Morgan invented the first traffic signal in 1922 in Cleveland, Ohio. The signals were used throughout North America until the invention of the automatic red-yellow-green light signals.

Meredith Gourdine invented the exhaust purification system for automobiles in 1967, now known as the Catalytic Converter, helping to keep our air clean.

Rosa Parks refused to obey the bus driver who asked her to give up her seat for a white passenger, which helped spearhead the Civil Rights Movement.

One of this community's own members, Sam Reynolds, and his family will be honored this spring with the installation of a permanent marker near the Sam Reynolds EmX Station on West 11th. Look for information on LTD.org later this spring.