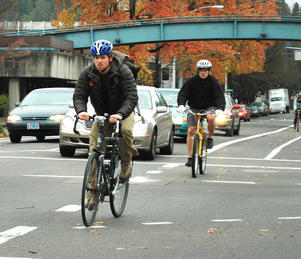 Business Commute Challenge Announces Winner - UO Employee Named Commuter of the Year
June 12, 2019
Media Contact: Pat Walsh for LTD
Email: Pat@voxprpa.com
Phone: 541-513-1236
Lane Transit District's Point2Point weeklong Business Commute Challenge logged another record breaking year as 2,868 local residents comprising 243 teams saved 96,314 single occupant vehicle miles, and reduced carbon dioxide emissions by 97,153 pounds.
"The 2019 LTD/P2P Business Commute Challenge set a record for most participants which demonstrates our community members' willingness to accept the challenge to try other modes of transportation to travel to and from work," said Cody Franz LTD's Point2Point Transportation Options Specialist. "Participants took an LTD bus to work, some rode bikes, walked, or carpooled. While others used a combination of transportation options to get where they wanted to go. We even had a participant kayak part of the way to work."
Sponsors for this year's challenge included the City of Eugene, the City of Springfield, Arriving by BikeÔ, Burleyâ, Bicycle Way of Life, Pacific Cascade Federal Credit Union, Track Town Pizza, CLIFâ, and University of Oregon Transportation Services.
As part of LTD/P2P Business Commute Challenge, an award was given to the Commuter of the Year. This year's recipient is Suzanne Reed, who works at the UO-Erb Memorial Union and the city of Eugene. Reed's co-workers describe her as a "commuting super star." They said, "Suzanne commutes 100% of the time via walking, bus, or bike to her two jobs, regardless of the weather. If Suzanne is in a car, it is always a carpool situation. She started using the PeaceHealth Rides bikes when they became available and has racked up more than 640 trips this year."
Team winners were also announced based on the number of trips taken by biking, busing, walking, carpooling, or telecommuting:
Team Size X-small (2-6 employees)
1st place - Better Eugene-Springfield Transportation
2nd place – Figoli Quinn Branding and Web Development
3rd place – UO – Oregon Humanities Center
3rd place – McKenzie-Willamette Medical Center Cardiac Rehabilitation
Team Size Small (7-12 employees)
1st place – UO – Aleman Lab
2nd place – TBG Architects + Planners
3rd place - ELAW
Team size Medium (13-25 employees)
1st place - UO – Outdoor & Bike Program
2nd place – Bicycle Way of Life
3rd place – Trifoia
Team size Large (26-75 employees)
1st place – Pivot Architecture
2nd place - Hutchinson Cox
3rd place – Down to Earth Retail Store
Team size X-large (76-249 employees)
1st place - Eugene Public Library
2nd place – Lane County Health and Human Services
3rd place - Abcam
Team size XX-large (249+ employees)
1st place - SELCO Community Credit Union
2nd place – Thermo Fisher Scientific
3rd place – Venture Data
This year's Business Commute Challenge was May 11-17. For more information about the 2020 Business Commute Challenge visit https://www.commutechallenge.org.