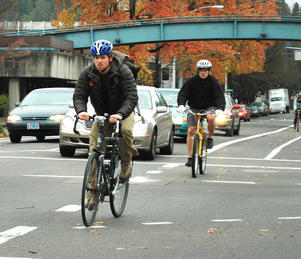 Business Commute Challenge Starts on Saturday!
May 11, 2017
Media Contact: Therese Lang
Email: Therese.Lang@ltd.org
Phone: 541-682-6101
For the 7th year, Point2Point at Lane Transit District (LTD) and the Metropolitan Planning Organization (MPO) of Lane County will be sponsoring the annual 2017 Business Commute Challenge, taking place beginning on Saturday, May 13 and continuing through the week, concluding on Friday, May 19.
The Business Commute Challenge is a friendly competition between businesses and other workplaces to see who can get the most employees to walk, bike, bus, carpool or telework during the week of the event. The workplace that has the highest participation wins bragging rights, with great prizes throughout the week for individuals.
Some of the fun events that are taking place during the week of the challenge include Poker Walkabouts, happening in both Eugene and Springfield, wrapping up with a party on Thursday, May 25, where the prize winners will be announced.
Top prizes include fishing trip, a commuter bike and a bike cargo trailer with many more prizes awarded based on how many days a person participates in the challenge. In addition to LTD/Point2Point, sponsors of this year's challenge include the City of Eugene, the City of Springfield, Arriving by Bike, Burley, Hutch's Bicycles, Collin's Cycle Shop, Paul's Bicycle Way of Life, Oakshire Brewery and Pacific Cascade Federal Credit Union.
Benefits to those participating in the Business Commute Challenge are many. The challenge encourages teambuilding among employees, reduces commuter stress, saves employees money on parking, gas and other car-related expenses and is great for the environment. Longer term benefits (if the participants continue their efforts) are better overall health and reductions in healthcare costs to the employers.
For more information about the 2017 Business Commute Challenge or to register your team, visit www.commutechallenge.org.