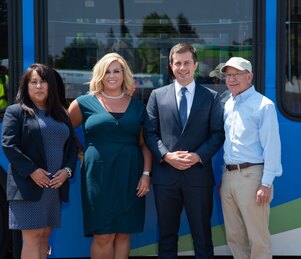 Buttigieg and DeFazio Tour LTD
July 15, 2021
U.S. Secretary of Transportation Pete Buttigieg and Oregon Congressman Peter DeFazio (D-Springfield) stopped at Lane Transit District's (LTD) Glenwood Offices in Springfield, Oregon on Wednesday (July 14, 2021) to talk about transportation safety, climate, and infrastructure, as well as to build awareness about a transit infrastructure bill, the
INVEST in America Act
, that passed with bi-partisan support in the U.S. House of Representatives and is now awaiting a vote in the U.S. Senate.
Congressman DeFazio is Chair of the Transportation and Infrastructure Committee and is the author of the INVEST in America Act.
The Secretary and the Congressman toured LTD's electric buses, including test-driving one around the bus yard to learn more about its operation. They then were joined by LTD General Manager Aurora Jackson, Springfield Mayor Sean Van Gordon and Eugene Mayor Lucy Vinis to participate in a news conference attended by members of the local, regional and national media. LTD Board of Directors President Caitlin Vargas was among the few community dignitaries invited to attend the event.
"I am thankful for the excellent work Congressman DeFazio does for our District and for the fresh approach Secretary Buttigieg brings to Washington, D.C." Jackson said. "Our work as a public transportation leader is being noticed by our nation's decision makers and that recognition is a reflection of the dedicated people at LTD who work hard every day to take our passengers to the places they need to go."
The news conference is
here
.
Information about the INVEST in America Act is
here
.