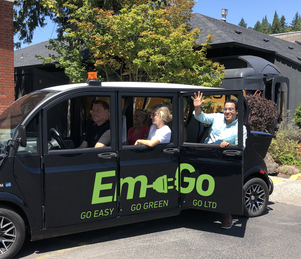 Collaboration Delivers Free Accessibility and Mobility to Riverfront Festival
July 13, 2022
Lane Transit District (LTD) and the City of Eugene have collaborated to enhance accessibility and mobility options for people with disabilities, older adults (65+) and families with young children traveling to/from the Eugene Riverfront Festival from Eugene's downtown core on Fridays, Saturdays, and Sundays during the World Athletics Championships Oregon22, July 15-24, 2022, from 12 p.m. to 7 p.m.
LTD is providing its EmGo five-passenger electric vehicles to the City of Eugene, whose drivers will pick up passengers at Oak Street (next to the Overpark parking garage) and on 8th Avenue (next to the Parcade parking garage) to deliver and return them from the festival. People are encouraged to budget extra time as there may be a wait before an EmGo arrives for a pick-up. Riding EmGo is free.
Built by Polaris, the EmGo is powered by a 48V AC battery. EmGo can travel nearly 70 miles before needing a battery recharge. With a GVWR of 3,000 pounds, the EmGo's top speed is 25 MPH. The EmGo electric vehicles were purchased with Statewide Transportation Improvements Funds (STIF) from the state of Oregon. One EmGo vehicle is set-up for riders who use mobility devices.
For additional information about getting to/from the Riverfront Festival, please visit the City of Eugene website and download a copy of the Get There Guide (PDF).