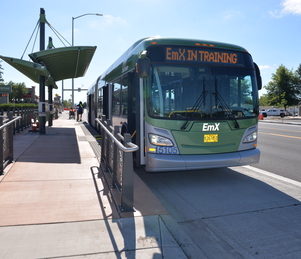 EmX Service Begins in west Eugene
September 17, 2017
Media Contact: Therese Lang
Email: Therese.Lang@LTD.org
Phone: 541-682-6101
Beginning on Sunday, September 17, Lane Transit District (LTD) launches the third corridor of EmX service in west Eugene along with several route changes, making travel into and out of west Eugene more accessible, convenient and efficient.
The launch follows nearly 10 years of planning, development and construction and is the largest public works project in Eugene in 10 years. Along with the additional nine miles (round-trip) of EmX service, LTD and its partners, City of Eugene, Lane County, the Federal Transit Administration and the Oregon Department of Transportation, added much-needed infrastructure including six miles of road improvements, five miles of rebuilt or newly constructed sidewalks, two new signalized pedestrian crosswalks and three new bicycle-pedestrian bridges.
"The expansion of the EmX corridor is an opportunity to provide better connectivity to jobs, school, medical appointments and other activities for people who travel into and out of west Eugene," said Aurora Jackson, general manager of LTD. "We are grateful to the community for their cooperation and support of the project and we hope they will find the service and infrastructure upgrades valuable."
The cost of the project is $100 million, primarily funded through the Small Starts program administered by the Federal Transportation Administration and adds 40 percent more service to west Eugene.
"Thriving communities have robust transportation options and the new EmX service provides another important connection for people going to work, shop or play," said Eugene Mayor Lucy Vinis. "This project not only better connects Eugene, but the infrastructure improvements like new sidewalks and bicycle-pedestrian bridges provide critical upgrades and help make the city safer."
In addition to the launch of the EmX into west Eugene, several routes have been redesigned to make connections and transfers easier and more convenient for riders. The majority of these route changes take place in west Eugene with several routes being folded into existing routes.
LTD is offering free rides on the entire system on Sunday, September 17, with greeters at select stations along the new EmX route in west Eugene. The greeters will assist riders with their travel options, hand out goodies and be available to answer any questions the public may have about their commute.
For more information about the new EmX corridor or to find more comprehensive information about the fixed-route service changes in west Eugene and beyond, please visit www.LTD.org