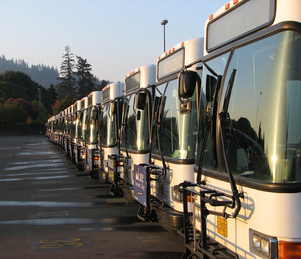 Fall Service Changes Begin on Sunday, 9/16
September 13, 2018
Media Contact: Therese Lang
Email: Therese.Lang@LTD.org
Phone: 541-682-6101
Cell: 503-913-9311

Beginning on Sunday, September 16, Lane Transit District (LTD) will implement fall service changes for several of its routes, which will impact the schedule and frequency of service.
The most notable change to service this fall will be to the EmX. Passengers riding on the EmX will need to deboard at the Springfield station and transfer either to the EmX Eugene or EmX Gateway, depending on their final destination.
Additionally, during the day on weekdays, the Gateway portion of the EmX line will begin to operate on a 15-minute frequency, while the Eugene portion of the EmX will continue with a 10-minute frequency. Evenings and weekends will continue with a 15-minute frequency across the entire EmX system.
Service adjustments are a routine part of LTD's continued effort to increase efficiency while meeting ridership demand. Service adjustments take place three times a year and are part of an effort to maximize service while managing costs. A complete list of the service changes can be found below.
The new 2018 LTD Rider's Digest, which provides a complete list of bus routes and schedules, is available at LTD Customer Service (located at 11th Avenue and Willamette Street in Eugene), on all LTD buses, and at all LTD sales outlets. Route and schedule information also is available on the LTD website at LTD.org. Note: A limited quantity of Rider's Digests has been printed; please keep your digest or view the information online.
For more information about service changes or for a complete list of Rider's Digest pick-up locations, contact LTD Customer Service at 541-687-5555 (7-1-1 TTY).
Fall Service Adjustments
After thorough review and a six week public comment period, the LTD Board of Directors adopted the following service adjustments to take effect on Sunday, September 16, 2018. The changes are based on adjusting service to ridership demand and increasing operating efficiency.
EmX
The Springfield Station to Eugene Station to Commerce segment will maintain current 10 minute service for most of the weekday. The Gateway to Springfield Station segment will change to 15 minute service to better align with current demand. Evening and weekend
EmX service remains on the current schedule, and 30-minute service begins a half an hour earlier on Saturdays.
Route 11 – Thurston
The route is being straightened and travel time reduced by not entering Thurston Station inbound and making frequency changes to adjust to new EmX connections on all days. Several low-performing weekday trips will be removed and timepoints will change throughout the route.
Route 12 - Gateway
Changes to weekday schedule times on four trips so they meet up with the departure times of other route connections (pulse times) at Eugene Station.
Route 27 – Fairmount
Frequency will change from 30 to 60 minutes on weekdays, which removes less productive, low-demand trips. Those trips are the 7:10 a.m., 12:20 p.m., 3:20 p.m., 4:20 p.m., and 5:40 p.m. trips.
Route 28 – Hilyard
Remove less productive, low-demand trips on weekdays, which are the 7:10 and 8:10 a.m. trips, also, the 8:40 a.m. trip will depart the Eugene Station at 8:30 a.m.
Route 33 – Jefferson
Removal of two low-performing trips: 6:45 a.m. & 7:00 p.m., readjustment of remaining trips to provide coverage during peak travel times.
Route 41 – Barger/Commerce
After review and public comment, there are no proposed changes to this route.
Route 51 – Santa Clara
Routing change on Jefferson from 5th Avenue to 10th Avenue will better serve senior housing.
Route 55 – North Park
Removal of two low-demand trips: the 10:15 and 11:15 a.m.
Route 73 – UO/Willamette
Removal of two underutilized trips, which are currently at 7:27 and 9:05 a.m.
Route 78 – UO/Seneca
This route was readjusted to reduce overall trip time and to better match the University of Oregon work and bell schedules; two late morning and two early afternoon trips were eliminated.
Route 79x – UO/Kinsrow
Removal of less productive trips on weekdays, which are the inbound 7:36 a.m. and outbound 9:27 a.m. and 12:27, 1:07, 2:27, 3:27, 4:27, and 5:07 p.m. trips.
Route 81 – LCC/Harris
Due to significant enrollment decline at Lane Community College, seven trips will be removed from weekday service: 7:03 a.m., 10:00 a.m., 11:00 a.m., and 12:00 p.m., 4:00 p.m., 5:00 p.m., and 6:05 p.m. Routing will change from Harris to Hilyard to straighten the route and eliminate the problematic turn onto 30th Avenue. Route name will change to LCC/Hilyard to reflect new routing.
Route 82 – LCC/Pearl
Removal of three partial trips and three full trips. Schedules adjusted throughout the day.
Route 85 – LCC/Springfield
Five less-productive trips were removed and schedules were adjusted on remaining trips to match up with bell times at LCC.
Route 95 - Junction City
The last two weekday trips were combined into one trip based on demand, and Saturday service was changed from four to three total trips, which is more consistent with LTD's other rural transit service eliminating Saturday's 9:05 a.m. trip.
Minor timepoint changes will be made to the following routes: 13, 17, 18, 66, 67 and 93.