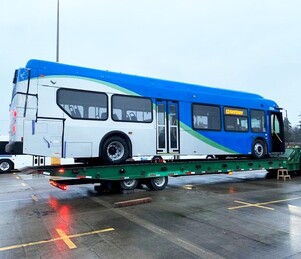 First New Flyer Electric Bus Arrives
December 16, 2020
LTD has taken delivery on the first of 11 New Flyer electric buses that were ordered in February.

"We are excited to have the first new electric bus arrive from the factory," said Matt Imlach, LTD's Fleet Management Director. "For the next few months, we will thoroughly test the new electric bus in the shop and on the road before it's put into passenger service early next year."
Imlach said the 10 remaining Xcelsior CHARGE™ battery-electric 40-foot heavy-duty transit buses that are being built at New Flyer of America's plant in Alabama, will be arriving throughout the next few months.
LTD's zero-emission electric bus purchase helps the District meet its goal to reduce greenhouse gas emissions from its fossil fuel-powered vehicles, while also supporting the city of Eugene's and state of Oregon's climate action initiatives.
In November, as part of its commitment to reduce greenhouse gas emissions, LTD began using R99 renewable diesel fuel to replace the B5 ULSD it has traditionally used to fuel LTD's fleet. R99 Renewable Diesel is commercially derived from a diverse array of fats and oil by-products and used in normal diesel engines.