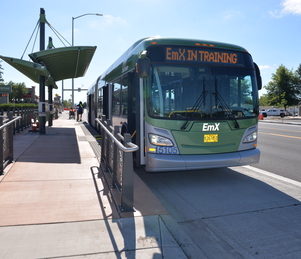 Good Ridership Numbers for New EmX Line
December 8, 2017
Media Contact: Therese Lang
Email: Therese.Lang@LTD.org
Phone: 541-682-6101
It's only been three months but since the launch of the new EmX service in west Eugene, Lane Transit District (LTD) has seen a 14 percent increase in bus ridership in the west Eugene service area, particularly along the new bus rapid transit corridor. In a year-to-year comparison of transit service use in west Eugene, October 2016 compared to October 2017, boardings increased by more than 43,000.
LTD also confirmed that there is an increase in transfers in the area possibly due to the addition of transfer points along the EmX (pronounced 'M-X') corridor which were built into the new service design. In a study of transfer activity at the Commerce stops near Beltline, which is a key connection point for four of LTD's routes, half of morning commuters were transferring on to another transit line. Riders are taking advantage of the new system design in west Eugene, implemented in September, which allows for better connectivity and more direct transit travel within the entire LTD service area.
"It is encouraging to see these positive initial numbers," said Aurora Jackson, general manager of LTD. "When we started the project, we intended to bring better transit service and connectivity to west Eugene residents and commuters and these numbers confirm that we are on the right track."
In addition to the increase in ridership in west Eugene, LTD has seen other growth in LTD's service delivery, including an increase in Sunday ridership by eight percent; system-wide boardings by three percent and weekday EmX boardings of 12,600 (in October 2017) from an average of 10,000 weekday boardings in October of 2016.
For more information about the new EmX service in west Eugene or for other ridership information, please visit www.LTD.org.