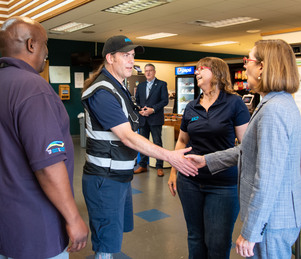 Gov. Brown Thanks LTD for Championship Work
August 26, 2022
Oregon Governor Kate Brown met today with employees at Lane Transit District (LTD) to thank them for their dedication and hard work during the World Athletics Championships Oregon22 held in the Eugene-Springfield Metropolitan area July 15 -24 at Hayward Field at the University of Oregon.
"I'd like to thank LTD employees for their extraordinary work during the World Athletics Championships," Governor Brown said. "This was a once-in-a-lifetime event, and LTD's service contributed to its success by ensuring visitors had an amazing experience."
It was the first time in history the international track and field championships were held in the United States. Nearly 150,000 tickets were purchased by fans from all 50 states and 40 countries.
During the meet's 10-day run, LTD experienced a 26% increase in ridership aboard its EmX bus rapid transit routes over pre-event ridership. EmX has three stops just blocks away from Hayward Field. Overall, ridership across the District rose 11% during the event.
"I want to thank Governor Brown for taking time to acknowledge the extraordinary commitment LTD employees made to the World Athletics Championships and for the dedication they bring to their jobs every day to connect local passengers and visitors to our community," said Mark Johnson, LTD's Interim General Manager. "LTD is proud to have played a role in welcoming the world to Oregon."
LTD also provided supplemental bus service between the Eugene Airport and local hotels to augment services offered by hotels, taxis, and ride-hailing services. Using buses from LTD's RideSource, TriMet in Portland, and Cherriots in Salem, the District transported 570 visitors traveling between the airport and area hotels. Buses to the airport were driven by current LTD bus operators, retired LTD bus operators, and qualified members of the community.
Photo (Courtesy of LTD): LTD Bus Operator Thomas Bettelyoun was one of many bus operators and staff Oregon Governor Kate Brown personally thanked for their work during the World Athletic Championships during her visit to District headquarters. Bettelyoun was joined in his conversation with the Governor by Bus Operator Dianna Strye (center) and LTD Human Resources Director Perry Adams (left).