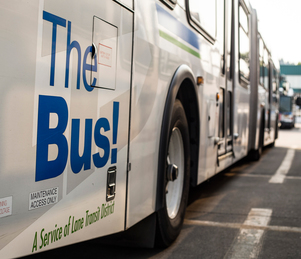 Lane Transit District Adds 14,000 Hours of Service
September 14, 2016
Media Contact: Edward McGlone
Email: Edward.McGlone@LTD.org
Phone: 541-682-6101
Public transit in the Springfield and Eugene metro area is getting a major facelift. Beginning September 18, Lane Transit District (LTD) is launching one of its biggest service investments in decades, adding 14,000 hours of new service to improve frequency, span of service and coverage areas.
In the second year of a three year, $3 million service investment, LTD will add more than 14,000 new service hours, a 5 percent increase from the year before, which will restore service to near pre-recession levels. The investment focuses on increasing service on LTD's most used routes including the EmX serving downtown Eugene, downtown Springfield and the Gateway area, Route 11 serving Springfield's Thurston area, and Routes 66 and 67 serving North Eugene. The EmX and Route 11 carry more than 25 percent of LTD's annual passenger boardings, with 3,000 boardings per weekday happening along Route 11 alone.
Service enhancements include:
EmX and Route 11 will run on a 15 minute schedule on Sundays, doubling service frequency
Route 66 and 67 will run every 15 minutes most of the day on weekdays, doubling service frequency
Thirteen routes will run one hour later on Sundays with most final trips departing at 8:30 p.m.
Route 33 serving south Eugene area will be extended to increase coverage in South Eugene, adding Woodfield Station Shopping Center and Amazon Station to the route

This $1,236,393 service investment is part of a three-year plan to improve transit service, funded by an increase in the employer payroll tax. Last year, LTD invested $800,000 to increase frequency along River Road and run buses later on weeknights.
LTD Board President Gary Wildish said, "We made a promise that we would use new tax dollars to improve service. Today, we are happy to keep that promise by investing more than $1 million in new and improved transit options for our customers and our community."
Riders can check if their routes are impacted by calling LTD customer service or visiting LTD.org and using either the "Plan your Trip" tool for customized travel plans, or the "Find your Routes" section. Both features are available on the right side of LTD.org. The new Rider's Digest schedule book with all the routes and schedules is available on buses and at the Customer Service Center, located in downtown Eugene at 10th and Willamette Street.
To view the detailed changes, visit LTD.org or call the Customer Service Center at 541-687-5555 (7-1-1 TTY) on weekdays from 7:00 a.m. – 7:00 p.m.