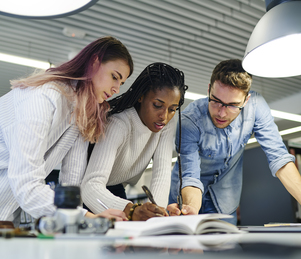 Lane Transit District Partners with UO's Sustainable City Year Program
April 5, 2019
Media Contact: Pat Walsh
Email: pat@voxpra.com
Phone: 541-513-1236

Lane Transit District (LTD) has engaged the University of Oregon's (UO) Sustainable City Institute's (SCI) Sustainable City Year Program (SCYP). The goal of this partnership is to provide research and recommendations for a variety of LTD's priority projects such as service opportunities that create greater connectivity with smaller Lane County communities, integrate bikesharing into the transit system, and assist with preparation for the 2021 International Association of Athletics Federation (IAFF) World Championships for track and field to be held in Eugene.
"LTD's riders and taxpayers have been the beneficiary of the good work SCI and its SCYP have provided to our agency in the past," said Aurora Jackson, LTD's general manager. "We believe SCYP will provide valuable and timely information about several LTD priority projects that will contribute to decisions made concerning the future of transit locally and throughout the industry."
SCYP classes that are directed toward LTD projects may be from varied academic disciplines across the University of Oregon campus. Based on the scope of the projects, classes may include business, design, journalism, arts and sciences, and law. SCYP students, either individually or as teams, are charged with identifying and analyzing a client organization's opportunities and challenges. Through classroom work, applied learning assignments, and collaboration with the client organization, SCYP students then makes recommendations as to the best course of action to be considered.
LTD worked with SCI's SCYP on several projects during 2012-'13 school year that connected students to transportation priorities for areas served by LTD, including the cities of Eugene and Springfield.

The LTD-SCI partnership will officially launch in September 2019.
About Lane Transit District (LTD)

LTD provides more than 10 million boardings per year on its buses and EmX Bus Rapid Transit line in Lane County, Oregon. Encompassing the Eugene-Springfield metro area, LTD is a special district of the State of Oregon and led by a seven-member board of directors appointed by Oregon's governor. LTD also operates RideSource, a paratransit service for people with disabilities, and numerous transportation options programs to promote sustainable travel countywide.
About the Sustainable Cities Institute
Sustainable Cities Institute (SCI) is an applied think tank focusing on sustainability and cities through applied research, teaching, and community partnerships. We work across disciplines that match the complexity of cities to address sustainability challenges, from regional planning to building design and from enhancing engagement of diverse communities to understanding the impacts on municipal budgets from disruptive technologies and many issues in between.
SCI focuses on sustainability-based research and teaching opportunities through two primary efforts:
Our Sustainable City Year Program (SCYP), a massively scaled university-community partnership program that matches the resources of the University with one Oregon community each year to help advance that community's sustainability goals; and

Our Urbanism Next Center, which focuses on how autonomous vehicles, micro mobility, e-commerce, and the sharing economy will impact the form and function of cities.
In all cases, we share our expertise and experiences with scholars, policymakers, community leaders, and project partners. We further extend our impact via an annual Expert-in-Residence Program, SCI-China visiting scholars program, study abroad course on redesigning cities for people on bicycle, and through our co-leadership of the Educational Partnerships for Innovation in Communities Network (EPIC-N), which is transferring SCYP to universities and communities across the globe. Our work connects student passion, faculty experience, and community needs to produce innovative, tangible solutions for the creation of a sustainable society.
About the University of Oregon
The University of Oregon is among the 108 institutions chosen from 4,633 U.S. universities for top-tier designation of "Very High Research Activity" in the 2010 Carnegie Classification of Institutions of Higher Education. The UO also is one of two Pacific Northwest members of the Association of American Universities.
Note: The University of Oregon is equipped with an on-campus television studio with a point-oforigin Vyvx connection, which provides broadcast-quality video to networks worldwide via fiber optic network. In addition, there is video access to satellite uplink, and audio access to an ISDN codec for broadcast-quality radio interviews.