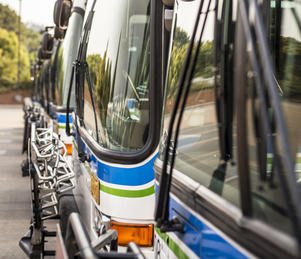 Lane Transit District Receives Federal Grant to Purchase Five Electric Buses
July 21, 2016
For Immediate Release
Media Contact: Edward McGlone
Email: Edward.McGlone@LTD.org
Phone: 541-682-6101
Lane Transit District announced today the receipt of a nearly $3.5 million federal grant to purchase five all-electric, zero emission buses.
The electric buses will replace five diesel buses, which have been in service since 1999 and have logged more than 500,000 miles each. The diesel buses consume a combined 39,114 gallons of diesel fuel each year.
The grant was awarded under the federal Low or No Emission Vehicle Deployment Program administered by the Federal Transit Administration (FTA). Funding for this grant program was authorized and increased by the Fixing America's Surface Transportation (FAST) Act.
"These five new all electric buses are an important part of LTD's work to modernize its aging fleet and deliver better transit service," said Lane Transit District General Manager, A.J. Jackson. "The FAST Act's investment in public transportation will ensure LTD's ability to deliver high-quality, reliable transit service in efficient vehicles that eliminate diesel emissions."
"It's essential that urban areas across the country have the opportunity to upgrade their public transportation to cleaner, more environmentally-friendly models," said Rep. DeFazio. "I'm proud that Eugene and Springfield will now be able to offer state-of-the-art public transportation that will improve our area's air quality, environmental impact, and overall standard of living."
Currently, 29 of LTD's 109 bus fleet have reached the end of their useful life and are in need of replacement. LTD's long range fleet plan depends on federal funding to replace aging vehicles and meet customer needs.
This fall, LTD will receive shipment of five electric buses funded under a previous federal grant. These buses will make LTD the first transit agency in the state of Oregon to operate fully-electric buses.