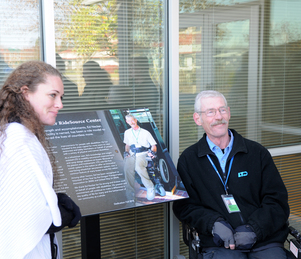 Lane Transit District to Rename RideSource Center to Ed Necker RideSource Center
November 8, 2018
Media Contact: Therese Lang
Email: Therese.Lang@LTD.org
Phone: 541-682-6101
Cell: 503-913-9311
A special ceremony honoring longtime Lane Transit District (LTD) board member, Ed Necker, will take place at the RideSource Center at 1:30 p.m. today. The event is being held to rename the center to the Ed Necker RideSource Center, honoring Necker for his many years of community service.
Necker's work with LTD began in 1996 when he served on LTD's Special Transportation Fund Advisory Committee. His participation on that committee provided him with an understanding of the challenges in funding public transportation services for people with disabilities. His work on the committee prompted him to begin volunteering with RideSource in 1997.
In addition to serving on LTD's Special Transportation Fund Advisory Committee, Necker served on many other committees for LTD. Eventually Necker was appointed by the Governor of Oregon to LTD's Board of Directors in 2008. Necker is the longest serving board member in LTD's history, with a tenure of 11 years.
Necker has been a valuable resource for LTD, assisting with mobility securement improvements and ramp design solutions on buses. He helped LTD become the first transit system in the nation to offer an innovative rear-facing wheelchair securement system, now a common feature of many buses across the nation.
In addition to his work with LTD, Necker was involved in advocacy on behalf of people living with disabilities in the greater Eugene/Springfield community. In 1997, Necker began serving on the Disability Services Advisory Council and the Advocacy Committee, which are advisory committees to Senior and Disability Services of Lane County. He later served as chair on both committees. He remains a strong presence on these committees representing people with disabilities and voicing their transportation needs.
Necker also became a known and respected advocate for legislation to fund and address accessibility improvements for people with disabilities. He has traveled to the state capitol for many years to raise awareness and lobby lawmakers on behalf of people with a variety of physical and cognitive challenges.
Ed has served the region in leadership roles on a number of key Board positions, committees, and special assignments, including:
Member, Disability Services Advisory Council, 1997 to present
Member, Joint Disability Services/Senior Services Advisory Council, 2014 to present
Member, Senior and Disability Services Planning, Budget, and Nominating committees, 2014 to present
President, ShelterCare Board of Directors, two terms; member, 2000 to 2013
Ed's steadfast dedication has earned him various honors over the years, including:
Oregon Transportation Association's Volunteer of the Year, 2000
United Way Outstanding Volunteer of the Year, 2004
Nomination for the American Public Transit Association's Outstanding Board Member of the Year award, 2016
In recognition of Necker's long-standing service to LTD, the community and people with disabilities and older adults, the LTD Board of Directors unanimously passed a resolution naming the RideSource Center after their dedicated fellow board member, the Ed Necker RideSource Center.
The event takes place today at 1:30 p.m. at the RideSource Center, located at 240 Garfield Street in Eugene.