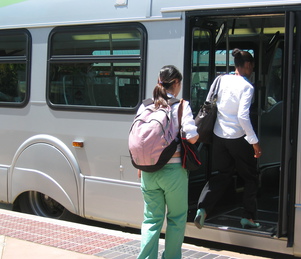 Lane Transit District's McVay Station Opens
December 10, 2019
Media Contact: Pat Walsh
Email: Pat.Walsh@LTD.org
Or Pat@voxprpa.com
Phone: 541-513-1236

Construction is complete for Lane Transit District's (LTD) McVay Station along the Eugene-Springfield EmX Route in Glenwood. Passengers can use the McVay Station on the south and north sides of Franklin Boulevard beginning Sunday, December 15, 2020. The station had been closed since 2017 during the city of Springfield's recent Franklin Boulevard construction, which also included round-a-bouts.

Brown Contracting, Inc. of Eugene managed and performed the work to install the McVay Station shelters which protect riders from inclement weather, but also provide lighting, curbing, signage, and ramps that are compliant with the Americans with Disabilities Act.
The $935,000 in funding to replace the McVay Station was a combination of grant money from ODOT's ConnectOregon Program, local funds, and salvaged value from components of the previous station.
EmX is the name of LTD's bus rapid transit (BRT) system. BRT emulates light rail's dedicated right-of-way, efficiency, and reliability without the capital cost of an expensive rail system Additionally, BRT has the advantages of a regular bus system's flexibility and lower operating costs.