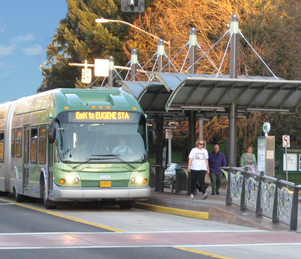 LTD Advises Caution as Training Begins on New EmX Route
July 18, 2017
Media Contact: Therese Lang
Email: Therese.Lang@ltd.org
Phone: 541-682-6101
Now that major roadwork has completed along the new EmX West corridor, Lane Transit District (LTD) has begun running buses along the route to identify potential safety and operational issues that may come up while in live traffic.
There have been many changes in the traffic right-of-way along the corridor and given that EmX buses are now on the road, LTD strongly encourages the public to remain alert and aware of these changes, which include bus-only lanes, bus-only turn signals, new shared lanes and adjusted traffic signal timing. New signs, crosswalks and signals have also been installed to help direct drivers, pedestrians and cyclists through the intersections.
The practice trips allow instructors and operators to learn nuances of the route and to navigate through the flow of traffic in West Eugene. Additionally, trial runs enable instructors to address technical issues that may come up with ADA ramp deployments, distinct station approaches and potential visibility challenges. This gives LTD time to make adjustments before service is implemented in September.
Instructors are practicing along the corridor for the next few weeks and will begin training operators in mid-August. Training will continue until service launches on Sunday, September 17.