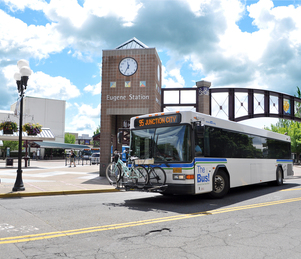 LTD Announces Finalists for General Manager
September 28, 2015
CONTACT: Edward McGlone 541-682-6104
Cell: 503-780-0464
After conducting an extensive nationwide search, the Lane Transit District Board of Directors has announced the names of three finalists for the general manager position. Each finalist brings a diverse and valuable combination of experience and success, and together they hold a combined 83 years of transit experience. Each of the three finalists will participate in a two-day interview process involving community members, bus riders, employees, and the Board on September 29 and 30, 2015. The three finalists are Aurora Jackson, Stephen Spade, and Andy Vobora
Aurora Jackson is the Director of Transportation for Montebello Bus Lines in Montebello, California.
Stephen Spade is the Transit Director for Wichita Transit in Wichita, Kansas.
Andy Vobora is the Director of Customer Service and Planning at Lane Transit District in Eugene, Oregon.
"This has been a very competitive process that has attracted some of the brightest talent in transit. The strength of our candidate pool is a testament to LTD's strong record of success, excellent staff, and depth of community support. We are excited to welcome such a talented group of leaders to compete for the job. What stands out about each of these candidates is their track record of listening to their communities to provide the best service possible," LTD Board President Gary Wildish said.
Full candidate biographies are attached to this release and are also available at LTD.org/GMsearch.
The public will have the opportunity to meet the candidates during an open house on September 29, 2015, from 5:30 pm to 7:00 pm at LTD's administrative offices, (3500 E 17th Avenue. Eugene, OR 97403) Transit access: EmX Glenwood Station (inbound/outbound).
Current LTD General Manager Ron Kilcoyne announced in March his plans to retire. His retirement date is set for October 30, 2015. Kilcoyne is the fifth general manager in LTD history and has worked at the agency since July 2011.