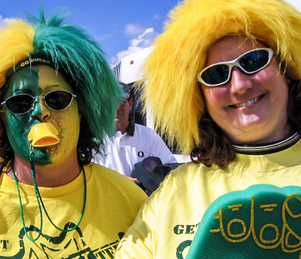 LTD Board Adopts Changes to Autzen Express Service
August 22, 2018
Media Contact: Therese Lang
Email: Therese.Lang@ltd.org
Phone: 541-682-6101
Cell: 503-913-9311
Beginning on September 1, 2018, the Autzen Express service, which is provided for University of Oregon home football games will have a fare increase and changes to several of the Park & Ride locations used for the popular shuttle service.
After two public hearings and a public comment period, the Lane Transit District's (LTD) Board of Directors unanimously adopted the proposed service changes to Autzen Express during their monthly board meeting on Wednesday, August 15.
Fares for this special service will go from $3.50 to $5. Fans can pay cash fare before boarding the shuttle on game day or use their existing valid LTD bus passes. The $5 fare is good for round trip (or one-way) and applies to riders ages six and older. No LTD passes will be available for purchase or distribution at the Park & Ride locations.
Current LTD riders who have LTD passes valid at the time of each game can use their passes to ride to and from the game. These passes include: all LTD monthly passes, day passes, 10-ride tickets (two are required for the round trip), EmX passes, Group Passes and Honored Rider passes.
Other modifications include changes to two of the eight the Park & Ride locations. The first change is the removal of the Symantec Park & Ride, located at 555 International Way in Springfield, which will no longer be used as a Park & Ride location. This lot is being replaced by a new Park & Ride located nearby at RiverBend Annex, located at 123 International Way in Springfield. Below is a list of Park & Rides where fans can catch the Autzen Express this year.

Autzen Express service begins three hours before the event and buses will run every 10 – 20 minutes from eight Park & Ride locations. Return trips are only available during halftime and immediately following the event for 60 minutes.
Park & Ride Locations:
Route 990x, LTD Eugene Station – 11th and Olive

Route 991x, Thurston High School – 333 58th St.

Route 992x, South Eugene High School – 400 E. 19th St.

Route 993x, Lane County Fairgrounds – 796 W. 13th St.

Route 995x, LTD River Road Station – River Road/River Avenue

Route 996x, Valley River Center – 293 Valley River Center (Northwest parking lot behind Eugene Crossfit).

Route 998x, RiverBend Annex – 123 International Way (Southeast parking lot), Springfield

Route 999x, LTD Springfield Station – South A/Pioneer Parkway

For more information about the Autzen Express, please visit www.LTD.org.