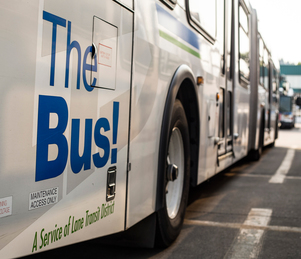 LTD Board Determines Finalist for General Manager
October 1, 2015
CONTACT: Edward McGlone 541-682-6104
Cell: 503-780-0464
Concluding a two-day interview process, the Lane Transit District Board of Directors has announced that they have reached consensus on a finalist to be the agency's next general manager. This decision concludes a six-month national search process that was initiated in March 2015 when current General Manager Ron Kilcoyne announced his intent to retire.
The LTD Board and the finalist have commenced contract negotiations, and the Board will announce the candidate's name pending successful completion of those negotiations. The Board is scheduled to meet in public session to officially adopt the new general manager's contract on October 12, 2015.
"The Board is very excited about the future of LTD under the leadership of our next general manager," LTD Board President Gary Wildish said. "We take very seriously our responsibility to our customers, our community, and our staff, and we are confident that our next general manager shares those values, will serve the community with respect, and will continue LTD's longstanding commitment to excellence."
Wildish continued, "The Board greatly appreciates the time and effort of everyone who participated in the recruitment and interview process. We are humbled by our community's support for transit and willingness to give their own time to help LTD succeed."
Earlier, the LTD Board announced three finalists for the general manager position: Aurora "AJ" Jackson, general manager of Montebello Bus Lines in Montebello, California; Steve Spade, transit director of Wichita Transit in Wichita Kansas; and Andy Vobora, director of Customer Services and Planning for Lane Transit District in Eugene, Oregon.
On September 29 and 30, candidates participated in a two-day interview process that included five interview panels, a community open house, and an interview with the Board of Directors. The interview panels included three groups of public sector partners, private sector leaders, and the community at large. Two staff panels, including senior management and rank and file employees, also interviewed the candidates. More than 30 members of the general public attended an open house with the candidates on September 29 and provided written feedback to the Board of Directors.
More information on the general manager recruitment process can be found at www.LTD.org/GMsearch.