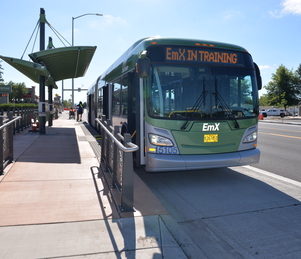 LTD Honored for EmX Project
October 20, 2017
Media Contact: Therese Lang
Email: Therese.Lang@LTD.org
Phone: 541-682-6101

Lane Transit District (LTD) received the Project of the Year Award from the Oregon chapter of the American Public Works Association (APWA) at their annual meeting this week for the west Eugene EmX expansion.
The project involved 10 years of planning, design and construction and is the largest public works project in Eugene in 10 years. LTD and its partners, City of Eugene, Eugene Water and Electric Board, Lane County, the Federal Transit Administration and the Oregon Department of Transportation, collaborated on the road construction project to bring public transportation to west Eugene and much needed infrastructure improvements.
"LTD is grateful for this recognition but we did not complete this project on our own," said Joe McCormack, Director of Facilities. "Our partners, such as the city of Eugene, were instrumental in getting this project finished on time and on budget."
In addition to adding bus-specific infrastructure support for LTD's EmX line, the $100 million project also added nine miles of round trip service, six miles of road improvements, five miles of new or rebuilt sidewalks, 187 ADA corners, 35 water filtration planters, two pedestrian crosswalks, two bicycle-pedestrian bridges and countless other improvements that will benefit all who travel into and out of west Eugene.
"This project is about more than just transit," said Kerry Werner, Civil Engineer with the City of Eugene. "From new dedicated business and transit (BAT) lanes to sidewalks and bicycle-pedestrian bridges, all of these improvements will make Eugene a safer place to live and work. I'm honored to be part of an award-winning project that will enhance so many lives."
LTD won in the category of projects totaling over $75 million and was evaluated on such criteria as whether the project meets the needs of the community; creative ways of overcoming economic challenges; construction that minimizes impacts to the community and environmental preservation strategies. As the Oregon winner in this category, LTD will go on to compete at the national level.