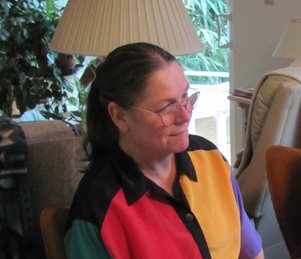 LTD Honors Neighborhood Leader
January 15, 2021
Two years ago this Sunday, (Jan. 17, 2019), 70-year old Irene Ferguson was walking along Hunsaker Lane in Santa Clara when she was struck and killed by a motor vehicle just before 6 p.m.

Authorities reported that poor weather and low visibility were the reasons for the fatal accident. Irene's death took the wind out of the tight-knit River Road and Santa Clara neighborhoods.

"Irene was a good friend and a person all of us could count on," said Carleen Reilly, a long-time River Road Neighborhood leader. "Her death was a tragedy. She is missed dearly, but her many contributions to the neighborhood have made our area a better and safer place to live."

Prior to her death, Irene had recently moved to Santa Clara after living for many years in the River Road Neighborhood. She was a strong advocate for pedestrian safety. Irene lobbied with 250 other River Road Neighborhood members to lower the 40 mph speed limit on River Road in their neighborhood, and she is credited with initiating the effort to install a pedestrian crossing at Briarcliff Lane.

"Her efforts to improve transportation impacted the whole system as walking and bus riding were her primary modes of transportation throughout the wider community," Reilly said.

Lane Transit District's (LTD) new Santa Clara Station property borders Hunsaker Lane to the north at River Road. When passengers are waiting to board a bus at the new transit station, they will see a permanent memorial recognizing Irene not for how she died, but for how she lived and contributed to the community.

"LTD was pleased to honor Carleen's request to remember Irene at the Santa Clara Station," said Aurora (AJ) Jackson, LTD's general manager. "Honoring Irene's dedication to the neighborhood, especially as a frequent bus passenger and for her commitment to pedestrian safety is important for all of us to remember whether we are riding on a bus, walking, behind the wheel of a vehicle, or pedaling a bicycle."

The new transit station opens on Feb. 7, 2021. In the coming weeks, the plaque honoring Irene will be permanently installed at the station.