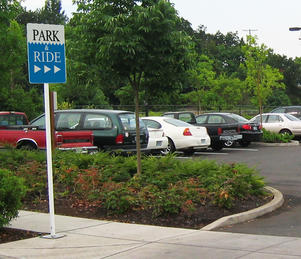 LTD Opens New Park & Ride
July 21, 2015
FOR IMMEDIATE RELEASE
CONTACT
Tracy Ellis 541-682-6183
Andy Vobora 541-682-6181
This month, Lane Transit District began offering a new Park & Ride opportunity at the Springfield Walmart located at 2659 Olympic Street. Designated spaces are located at the outermost section of the parking lot, adjacent to the LTD bus stop.
More than 50 spaces will be available to commuters offering easy access to transit on LTD's Route 18 to the Springfield Station. This Park & Ride lot also offers commuters a convenient opportunity to meet their carpools and walk or bike to their destination.
Lane Transit District currently offers 26 Park & Ride locations throughout the metropolitan area and in nearby rural communities. For a complete list of Park & Ride locations and a list of bus routes that serve each Park & Ride lot, visit LTD's website at LTD.org or call LTD Customer Services at 541-687-5555.
# # #