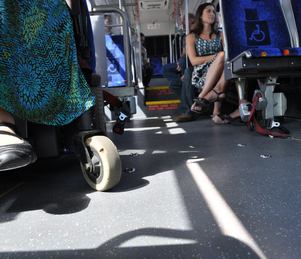 LTD Receives Award for Advancing Employment for Those with Disabilities
July 14, 2017
Media Contact: Therese Lang
Email: Therese.Lang@ltd.org
Phone: 541-682-6101
Lane Transit District (LTD) was awarded the Employer Award by the Association of People Supporting Employment (APSE), an organization that educates, advocates and supports the integrated employment and career advancement opportunities for people with disabilities.
LTD was honored in a ceremony in June at the APSE National Conference that took place in Portland, Oregon. LTD was awarded this honor because they actively recruit and support employment for people with disabilities as well as provide training and information for those with disabilities who utilize public transportation in LTD's service area.
"We are honored that APSE has recognized our efforts," said Cosette Rees, Manager of Customer and Accessible Services for LTD. "Providing a way for people in our community to live independent lives is LTD's number one priority."
LTD maintains a variety of programs and services to help seniors and people with disabilities including specialty formatted materials (Braille and audio tapes), low-cost fares and RideSource, LTD's specialized transportation service for those who cannot physically use the bus.