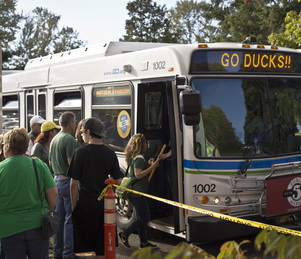 LTD Reminds Duck Fans to Skip Traffic and Ride the Bus to Autzen
August 31, 2017
Media Contact: Therese Lang
Email: Therese.Lang@LTD.org
Phone: 541-682-6101
Lane Transit District's Autzen Express is back for the 2017 football season and Duck fans are encouraged to ride the bus rather than sit in traffic. The service, which operates from eight area Park & Ride locations, provides non-stop trips to Autzen Stadium four hours prior to kickoff and return service at half time and post-game. On average, 8,000 - 10,000 fans ride the Autzen Express every home game.
Park at one of eight Park & Ride locations beginning two hours before kickoff and board a bus that goes straight to the game, every 10 – 20 minutes. Return trips on these express buses are available for one hour after the game. Round trip fare is $3.50 for adults and $1.75 age 18 and younger. All LTD passes are also accepted as fare.
Autzen Express locations are located at:
Eugene Station
Thurston High School
South Eugene High School
Lane County Fairgrounds
River Road Station
Valley River Center
Symantec
Springfield Station
To learn more about the Autzen Express and find Park & Ride locations, please visit www.LTD.org or call the Customer Service Center at 541-687-5555 (7-1-1 TTY) on weekdays from 7:00 a.m. – 7:00 p.m.