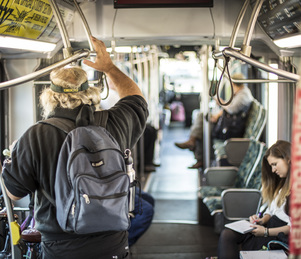 LTD to Conduct Origin and Destination Survey Beginning on Saturday, October 3, 2015
September 28, 2015
Contacts: Andy Vobora 541-682-6181
(Cell) 541-501-9398
Nathan Banks 541-682-6191
(Cell) 971-235-5354
On October 3-12, transit survey teams will conduct a rider survey on board LTD buses in an effort to help guide service improvements.
LTD will use the survey to learn more about where riders take the bus, why riders choose the bus, how often trips are taken, what improvements are most important, and how LTD is serving our community overall.
Over the 10-day survey period, bus passengers may be given a questionnaire. Authorized surveyors can be identified by their "Transit Survey Team" apron. Surveys not completed on the bus can be finished later and given to any LTD bus operator, or turned in to the drop boxes at the Eugene or Springfield Stations.
The information obtained from the survey will be used to identify trends in travel habits and patterns, and assist in the development of future routes and service levels. Completing the survey is very important and will ultimately help LTD serve you better.
This survey is performed every 4 years, and you can review the 2011 Origin/Destination study results on our website under "About Us" then "Reports and Publications."