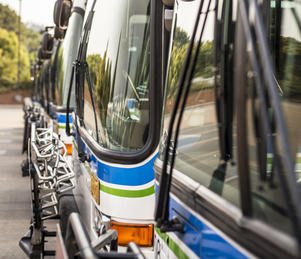 LTD to Host Open House With GM Candidates
September 23, 2015
CONTACT: Edward McGlone 541-682-6104
Cell: 503-780-0464
As the Lane Transit District advances towards hiring a new general manager, the LTD Board of Directors invites the public to participate in an open house with the finalists for the position. The open house will allow members of the public to meet the finalists on the eve of their interviews with the Board of Directors and to provide informal feedback on the candidates.
Date
:
Tuesday, September 29, 2015
Time
: 5:30-6:30 p.m.
Location
: LTD Administrative Offices (3500 E 17th Avenue. Eugene, OR 97403) Transit access: EmX Glenwood Station (inbound/outbound)
The open house will be the last step in an open and inclusive process that has sought feedback from the community, transit riders, government, and other community partners. The LTD Board instructed executive search firm KL2 Connects to engage community members in developing the leadership profile and key traits of the future general manager. That was achieved in three ways: 1) stakeholder interviews conducted by LTD staff; 2) facilitated roundtable discussion with community leaders; and 3) multiple opportunities for input from represented and non-represented staff.
On June 22 the LTD Board met in public session for a facilitated roundtable with community leaders and other stakeholders to identify key traits and characteristics that would make for a successful general manager. More than 50 community leaders were invited to attend the roundtable and nearly two dozen participated. Those traits yielded a revised Leadership Profile which was adopted by the LTD Board of Directors on July 2.
On August 19 the LTD Board of Directors met in executive session to select three finalists to advance to interviews. Interviews will take place over two days: September 29 and 30. Finalists will be screened by three panels of community stakeholders representing public, private, and non-profit sectors as well as transit users. Staff will also participate in a round of interviews. Candidates will be available at an open house the evening of September 29 for members of the public to meet the candidates and ask questions. The LTD Board of Directors will interview the candidates on September 30.
The names of the finalists for the general manager position will be released to the public the morning of September 28, 2015.