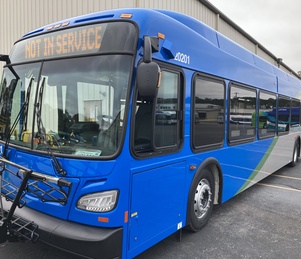 New Electric Buses On Schedule
December 2, 2020
LTD is expecting the first of eleven New Flyer electric buses to arrive in late December; with the remaining buses to be delivered in 2021.
"A week ago, we were on-site at the manufacturer to inspect the first of the New Flyer buses to be delivered to LTD," said Matt Imlach, LTD's Fleet Maintenance Director. "At this point, the electric buses are scheduled to arrive on time and within budget."
Imlach said that after the new electric buses arrive in Eugene from the manufacturing facility in Alabama, it will be a few months before they are put into regular service. "Just like test driving a new private vehicle, LTD bus operators and the fleet maintenance team put new buses through their test paces to ensure the vehicle is ready for our system on the road and in the shop," Imlach said.
In February, the LTD Board of Directors voted unanimously to approve the purchase of eleven Xcelsior CHARGE™ battery-electric 40-foot heavy-duty transit buses, including ABB depot chargers to support electric bus infrastructure development from New Flyer of America Inc. (New Flyer), a subsidiary of NFI Group Inc. (NFI), one of the world's leading independent global bus manufacturers.

This purchase is in alignment with the Climate Action Policy and Fleet Procurement Goals passed by LTD's Board of Directors in June 2020. LTD's zero-emission electric bus purchase helps the District to reduce its greenhouse gas emissions from its fossil fuel-powered vehicles while continuing to fulfill its mission to provide clean, reliable, convenient, transportation options for the Eugene-Springfield, Oregon, metro area, and surrounding communities.
The $10.6 million purchase is funded through the Federal Transit Administration (FTA) Low or No-Emission fund, and LTD general funds.
Also, as part of LTD's commitment to reduce greenhouse gas emissions, earlier this month LTD announced it had begun using R99 renewable diesel fuel to replace the B5 ULSD it has traditionally used to fuel LTD's fleet. R99 Renewable Diesel is commercially derived from a diverse array of fats and oil by-products and used in normal diesel engines.
Photos of LTD's new electric buses in production are attached.