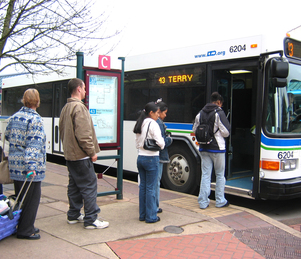 New Pilot Program Begins Next Week
January 5, 2018
Media Contact: Therese Lang
Email: Therese.Lang@LTD.org
Phone: 541-682-6101

Lane Transit District (LTD) is unveiling a new pilot program aimed at easing the boarding process for riders with service animals.
On Monday, January 8, LTD will allow riders who use service animals to board buses in a faster and more convenient way with a special stamp on their rider card. Riders who volunteer to participate who have service animals can get the rider card at the downtown Eugene station.
Currently, bus operators are required to ask whether the animal is a service animal and what task they are trained to perform. This new voluntary program will make the process faster and easier for both drivers and passengers.
LTD received a grant of $83,000 from the Oregon Department of Transportation (ODOT) to implement this program and hopes this will become a model for other transit agencies.
For more information about this new program, please visit LTD's website: www.LTD.org or call LTD's customer service center at 541-687-5555.