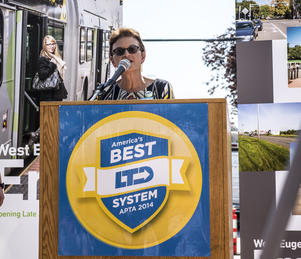 Region's EmX Transit Line Receives $75 Million in Federal Funding
September 11, 2015
For Immediate Release
Media Contact: Andy Vobora
Andy.Vobora@ltd.org
Office: 541-682-6181
Mobile: 541-501-9398
EUGENE, Ore. (Sept. 11, 2015) – Acting Administrator of the Federal Transit Administration (FTA) announced the award of $75 million in federal funds to construct the third leg of Lane Transit District's popular EmX bus rapid transit line at a milestone event Friday.
"Bus rapid transit service in Eugene is an important part of the region's commitment to expand and modernize public transportation for hard-working families," said FTA Acting Administrator McMillan.
The West Eugene EmX project, is a nine-mile extension of the current 15-mile line that will connect west Eugene with downtown Eugene, downtown Springfield, and the Gateway are in north Springfield. When completed, the new line will expand EmX by 60 percent and connect 52,000 residents who live along the corridor with an estimated 81,500 jobs and improve access to employment, education and recreation throughout the Eugene-Springfield region.
"Today we celebrate not only the transportation benefits of the West Eugene EmX project, but the notion that transportation investment is not an end in itself, but a means to many positive ends," stated Oregon Department of Transportation Director Matthew Garrett at the milestone event.
In Eugene, those many positive ends include enhanced infrastructure for transit riders, bicyclists, pedestrians, and motorists. Features will include 26 new BRT stations with real-time bus-arrival displays, bike-pedestrian bridges, signalized pedestrian crossings, ADA enhancements, sidewalk and stormwater filtration improvements, local artist installations and additional trees along the corridor.
The West Eugene EmX project was identified for FTA funding in 2012 and the Eugene City Council and LTD Board voted thereafter to move forward with the project. With the funding committed and community support, design and engineering for the new line began in 2013 and utility relocation work commenced late last year. This fall, construction between downtown Eugene and Garfield Street is wrapping up and work on two bike-pedestrian bridges, stations and landscaping will continue this winter as crews prepare for the second phase of construction in 2016, with an expected start of operation in late 2017.
In addition to the $75 million FTA funding, LTD received $17.8 million in Oregon Lottery Bonds, $2.1 million in federal formula funds and $1.6 million from a ConnectOregon grant to round out the $96.5 million project. The FTA also awarded $29.6 million in grant funds for an earlier EmX expansion from Springfield to the Gateway area completed in 2011.
LTD General Manager Ron Kilcoyne acknowledged the leadership of numerous individuals and organizations to the gathered crowd of 70 people Friday. This included recognition of the event speakers Eugene Mayor Kitty Piercy, Oregon Department of Transportation Director Matthew Garrett, Northwest Community Credit Union Facilities Director Rex Fox LTD Board President Gary Wildish and supports of the project, the Eugene City Council, Chamber of Commerce, Metropolitan Planning Committee and the Better Eugene-Springfield Transit organization.
For photo and video simulations of the project, visit LTD.org. More information about Acting Administrator McMillan is available on FTA's website.
###