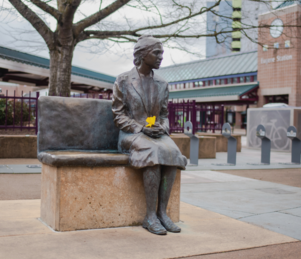 Rosa Parks Transit Equity Day is Feb. 4
February 1, 2022
This February 4, Lane Transit District (LTD) encourages you to acknowledge Rosa Parks, the namesake of Eugene Station's Rosa Parks Plaza, as you pass through Eugene Station or take a seat on public transit.
In 1976 then President Gerald Ford honored Rosa Parks on her birthday by declaring February 4 Rosa Parks Transit Equity Day. A civil rights icon and public transit user, Parks refused to give up her seat on a segregated Montgomery, Alabama city bus and sparked the Montgomery Bus Boycott. Parks' quiet courage ignited a call for equity and inclusion, leading to the desegregation of public transit a year later.
"Rosa Parks watches over every LTD bus and passengers that enter and exit the Eugene Station," said Mark Johnson, LTD's Interim General Manager, while referring to the Rosa Parks statue prominently located at the station. "Her statue reminds everyone that LTD buses, our stations and bus stops are welcoming and safe for all community members regardless of their race, national origin, religion, ability, sex, gender identity, or age."
Johnson encourages everyone who sees the Rosa Park Statue at the Eugene Station to use her likeness as an inspiration to engage our diverse community with equity, inclusion, and dignity.
To learn more about what LTD is doing to create a more connected, sustainable, and equitable community, view the
Strategic Business Plan
.