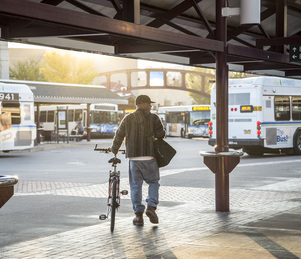 Save money. Save your planet.
June 13, 2017
Did you know that the average household spends 17.5 cents of every dollar on transportation? And that 94 percent of this goes to buying, maintaining, and operating cars - the largest expenditure after housing? But when you use the bus or another smart transportation option, you save money – and the planet.
National Dump the Pump day is June 15, a day to encourage more people to get out of their cars and discover travel by transit, carpooling, bicycling or walking. Here in our community, LTD is raising awareness and encouraging alternative travel options through events like the Business Commute Challenge and community outreach all through the summer.
Share with us how you are dumping the pump this month at Facebook.com/LaneTransit