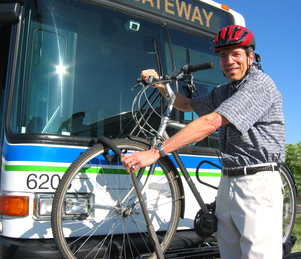 SmartTrips Main Street Residential Program Launches June 1, 2015
May 29, 2015
Sent Via E-mail
Press Release

Contacts
Cody Franz 541-682-6112
Theresa Brand 541-682-6132
Point2point at Lane Transit District, in partnership with the City of Springfield, will launch this summer's SmartTrips Springfield program in the Main Street area on June 1, 2015. SmartTrips uses education and incentives to encourage people to try new ways to meet their daily travel needs rather than driving alone. Residents in the Main Street area will have the opportunity to order FREE travel information, win prizes, and participate in FUN events.
"This is a fun way for Springfield residents to learn more about their transportation options like biking, carpooling, or taking transit," said Cody Franz SmartTrips Springfield Coordinator. "The best part of this program is that it free for all residents."
This program is dedicated to helping people address and overcome barriers to choosing transportation options, encouraging an active and healthy lifestyle, and aiding people in getting out and exploring their community. To learn more about the SmartTrips Main Street program, see a full list of this summer's events, or to order travel tools visit www.SmartTripsSpringfield.com.
When: June 1 through August 31, 2015
Where: Neighborhoods near and along Main Street from 48th to 62nd Street, Springfield, OR
Cost: This program is free to all residents in the program area
Additional Information: Contact SmartTrips Program Coordinator Cody Franz at 541-.682-6112 or smarttrips@ltd.org
# # #